Prantl's Bakery has been churning out the goods using traditional German methods, but it's their slightly more singed creation that has locals obsessed. And the HuffPost. And us. The Huffington Post recently named it "The Best Cake America Has Ever Made," for two delightful reasons: 1) its layers of the bakery's special creamy vanilla custard 2) the sheer force of deliciousness that is buttercream combined with candied toasty almonds. It makes even the toughest Steelers fans swoon.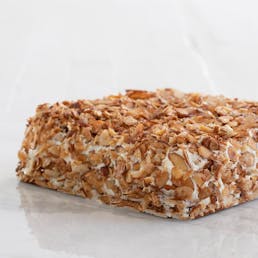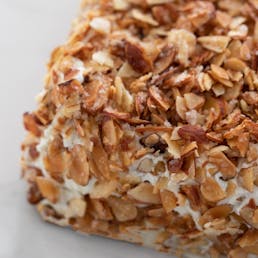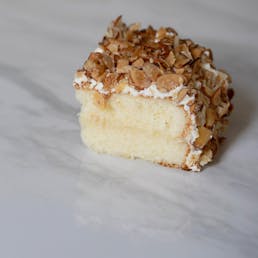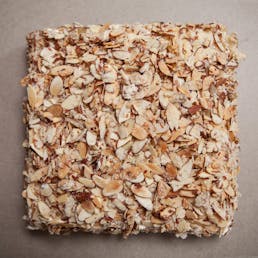 More Details
Each Burnt Almond Torte is approximately 8″ × 8″ × 3″
Each cake serves 8-10 people
Regrettably we are unable to offer script on cakes for shipping
Ingredients
Water, granulated sugar, powdered sugar, almonds, cake flour, cremyvit, soy (partially hydrogenated) and palm oil, egg, soy (partially hydrogenated) oil, dry nonfat milk, soy (partially hydrogenated) and cottonseed oil, egg whites, baking powder, imitation vanilla extract, salt.
Contains: eggs milk nuts soy beans, wheat
Instructions / Storage
This cake is made-to-order and promptly frozen. Although each box is carefully packed and picked up for immediate shipment, it is normal for the cake to partially or fully thaw during shipment. Upon receipt, please refrigerate or place in the freezer.
Each cake will stay fresh in the fridge for up to 7 days. If you wish to keep your cake longer, you can store it in the freezer for up to 6 months.
Detailed storage instructions are included in the box.
Shipping Details
Items are prepared fresh and shipped directly from the shop
This product ships free via 2-day shipping to most states.
Prantl's Bakery ships Monday- Friday of each week
Orders cannot be shipped to P.O. Boxes
Orders shipped to Alaska and Hawaii via 2-day will incur an additional $20 charge or $35 for Overnight Shipping. Sorry guys!
Have more questions about Shipping? Read our Shipping FAQ page.