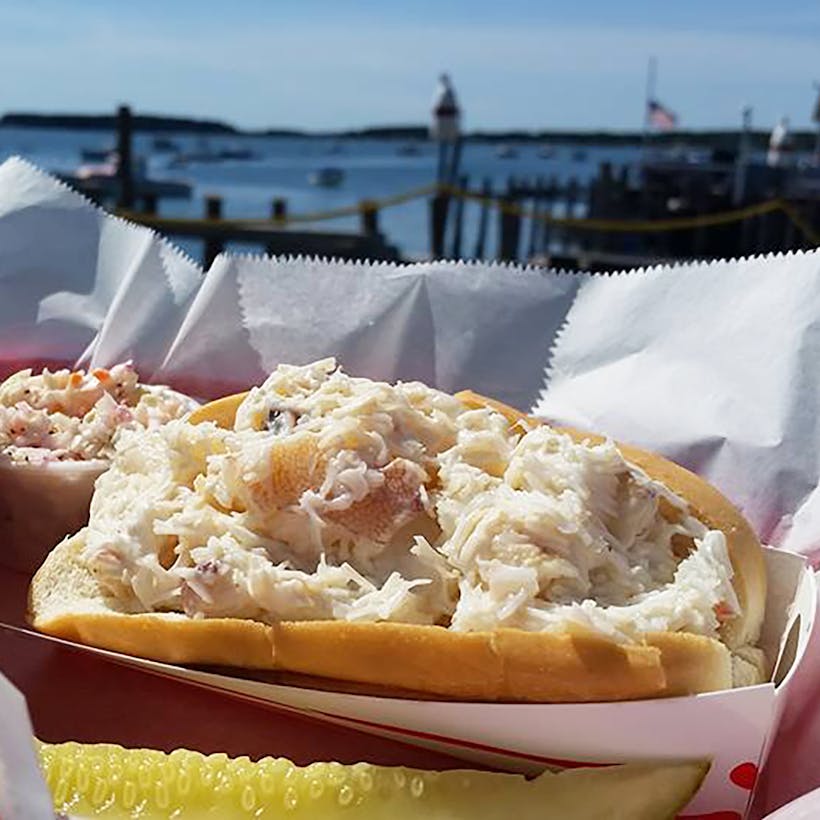 When Yankee Magazine sent their editor up the Maine coast in early 2017 to sample dozens of lobster rolls and crown one champion, she chose McLoons Lobster Shack for their fresh lobsters and perfect rolls. The crab roll is beloved by Mainers and those in the know. Many even prefer it to the lobster roll! McLoons provides the highest quality crab meat, along with all the other essential items that make up this great New England style seafood roll.
Once considered by lobstermen to be a nuisance and bait-stealer that was more of a pest than a lucrative species for harvest demand for Rock Crabs soared after chefs and other epicures in New York were introduced to it by Maine's legendary Browne Trading Company. Processing these crabs remains a true "cottage" industry in Maine, with very few commercial houses investing in the time-consuming traditional hand-picking method necessary to produce superior meats free of shell.
More Details
This includes 2 Crab Rolls. You can choose to add additional crab rolls for an additional cost
Each kit makes two crab rolls and includes separate containers of fresh Rock Crab meat (8 oz.), 2 New England style split top rolls, Mayonnaise, Butter, Roll Sleeves and an Instruction Card
This is perfect for a party!
Instructions / Storage
Each pack includes fresh, hand picked, fully cooked all leg meat from Maine rock crabs
Mcloons' crabs are shipped with ice packs, which may thaw partially or fully during transit
Follow the instructions in the card given to make the perfect McLoons Crab Roll!
Shipping Details
Items are prepared fresh and shipped directly from the shop
McLoons Lobster Shack ships Monday-Friday of each week
Orders cannot be shipped to P.O. Boxes
Orders shipped to Alaska and Hawaii via 2-day will incur an additional $20 charge or $35 for Overnight Shipping. Sorry guys!
Have more questions about Shipping? Read our Shipping FAQ page.
( 4.9)
McLoons Lobster Shack

CUSTOMER REVIEWS
Just wanted to let you know that McLoon's delivered, and our kids were very, very happy. They said the lobster rolls were delicious with plenty of lobster meat and the blueberry bread pudding added by McLoon's was fabulous.
Naomi S. - Dover, MA
12/20/18
The lobster from McLoon's was incredibly fresh and lively when it arrived. A rare experience in the high desert of New Mexico! Fabulous!
Althea D. - Chamisal, NM
09/05/18
Our daughter sent us a lovely gift of lobsters for our anniversary. Wanted to let you know how great they were. They were really cold, survive the trip to Utah! We enjoyed them for two more days. Good packaging and appreciated the cooking instructions!
Gerda M. - Logan, UT
08/29/19