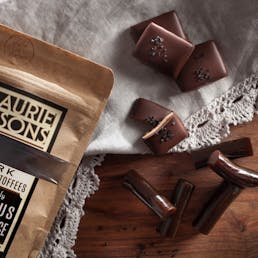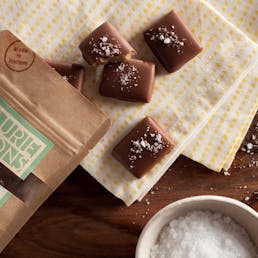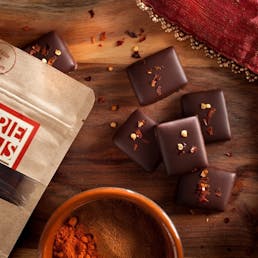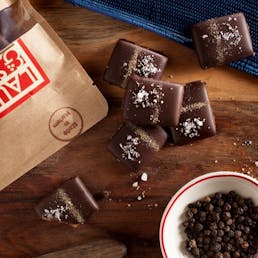 Choose Your Own Toffee 4 Pack
Handcrafted in Harlem, Laurie & Sons' buttery toffee takes this old fashioned treat to an almost unrecognizable levels of yum thanks to their creative concoctions and unique toffee flavors. Made in small batches, Laurie and her sons cook, pour and cut fresh batches of golden toffee by hand, which are then dipped in fair trade chocolate.
Choose 4 of Laurie & Sons Award Winning Toffee Flavors.
More Details
Each order includes 4 packages of toffee (approximately 20 pieces)
Flavors include
Black Licorice Chocolate Toffee Award-winning 2015 Gold sofi winner for Outstanding Chocolate, this chocolaty, buttery toffee sparkles with real black licorice & fresh ground star anise, lightly dashed with Pernod Liqueur.
Dark Chocolate Toffee with Maine Sea Salt & Tellicherry Pepper Classic Laurie & Sons chocolate, buttery, crunchy toffee with a brace of sea salt from the coast of Maine & a bite of fresh ground black Tellicherry pepper!
Moroccan Spiced Chocolate Toffee with Cinnamon & Cayenne Bite into this Moroccan Spiced toffee and release a buttery, cinnamon & cayenne mini heat wave — tempered by rich dark chocolate!
Dark Chocolate Toffee with Maine Sea Salt Bite into this classic sweet snack – the perfectly balanced ratio of buttery, crunchy toffee & rich, dark chocolate — topped with a brace of Maine Sea Salt crystals for an extra pleasing crunch.
Milk Chocolate Toffee 38% cacao Milk Chocolate Toffees with Maine Sea Salt will have you "oooing" when you bite into the creamy, extra rich chocolate-covered crunch.
Instructions / Storage
Chocolate toffees should be kept between 65 – 70 degrees, out of sunlight
Shipping Details
Items are prepared fresh and shipped directly from the shop
Laurie & Sons ships Monday-Wednesday of each week
Orders cannot be shipped to P.O. Boxes
Orders shipped to Alaska and Hawaii via 2-day will incur an additional $20 charge or $35 for Overnight Shipping. Sorry guys!
Have more questions about Shipping? Read our Shipping FAQ page.