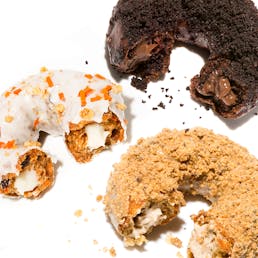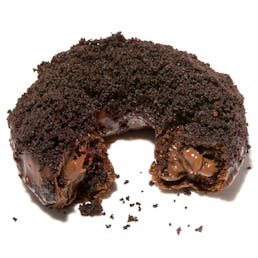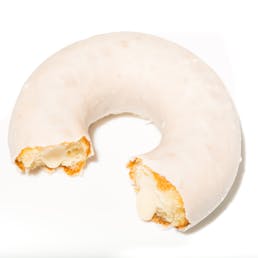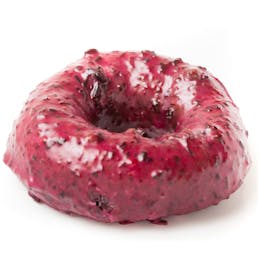 Choose Your Own Cake Doughnut Dozen
Over 20 years ago, Mark Isreal opened Doughnut Plant using his grandfather's recipe from 1910 when the family first got into the baking business. Gooey, chewy and nearly impossible to finish before heading into a massive food coma, these handcrafted rounds of sweet cake dough are the real deal. Part of what makes their doughnuts so fantastic is Mark's dedication to using the highest quality ingredients—even if that means hacking into fresh coconuts and splitting open individual vanilla beans from time to time.
This pack of 12 cake doughnuts is inspired by the tastes of Doughnut Plant's hometown of NYC and includes 12 doughnuts of your choosing.
Certified Kosher-Dairy
More Details
Each package includes 12 cake Doughnuts wrapped in a signature gift box.
Each doughnut is approximately 3.5" wide x 1" thick
Choose from these cake doughnut flavors:
Brooklyn Blackout Cake- a chocolate cake doughnut, with small pockets of chocolate pudding filling, dipped in chocolate glaze and sprinkled with chocolate cake crumbs
Carrot Cake- traditional carrot cake made with lots of real carrots, raisins, walnuts and spices, with small pockets of a cream cheese filling
Blueberry- a round blueberry cake doughnut coated in fresh blueberry glaze
Tres Leches Cake- the sweet taste of the authentic "three milks" cake, in a round cake doughnut, with small pockets of tres leches filling
Red Velvet- is made with all natural red velvet cake dough coated in a cream cheese glaze and sprinkled with red velvet cake crumbs
Coffee Cake- this cake doughnut is made with real coffee – in the dough, in the glaze, in the small pockets of creamy mascarpone filling…even in the crumbs on top!
Black & White- in honor of NYC's famed Black & White cookie, this cake doughnut is dipped in a chocolate and white chocolate glaze
Marcona Almond Gluten Free* Cake Doughnuts – made with Marcona almonds
Pumpkin with Spiced Pepitas – Made with real pumpkin and topped with candied spiced pepitas!
Apple Cinnamon – A twist on a traditional apple cider doughnut, using local apples from the GreenMarket and real cinnamon—in the glaze and the dough
* Gluten Free doughnuts are made in a designated area and in a separate fryer. However if they are packaged with non-gluten free doughnuts, Please assume there is cross-contamination.
Ingredients
Doughnut Plant doughnuts are handcrafted every day using the finest ingredients available. Every jams and filling is made by hand in house. They never use eggs, preservatives, or anything artificial and their doughnuts contain no trans fat.
Doughnuts are made in a facility that uses various kinds of nuts, dairy, soy and gluten. Please assume there is cross-contamination.
Certified Kosher-Dairy
Shipping Details
Items are prepared fresh and shipped directly from the shop
Doughnut Plant ships Tuesday – Friday of each week
Orders cannot be shipped to P.O. Boxes
Orders shipped to Alaska and Hawaii via 2-day will incur an additional $20 charge or $35 for Overnight Shipping. Sorry guys!
Have more questions about Shipping? Read our Shipping FAQ page.