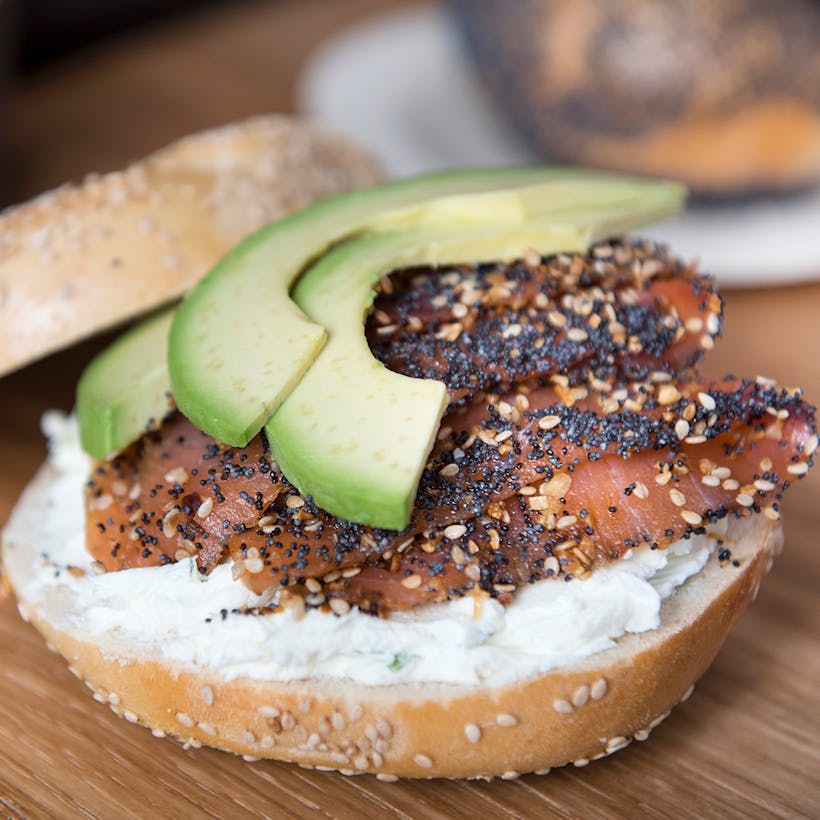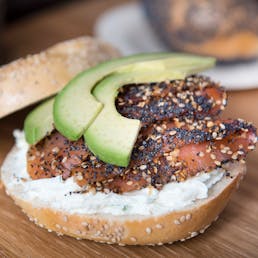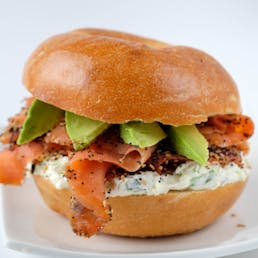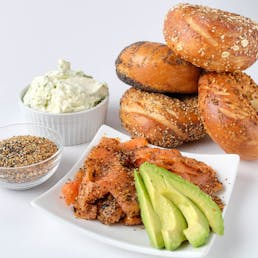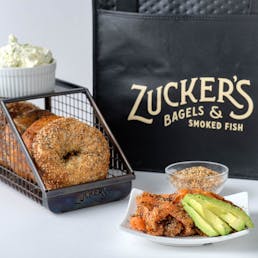 The Flatiron Bagel Sandwich Kit
Zucker's Bagels and Smoked Fish is known for their dedication to tradition and innovation. Their bagels are made the old-fashioned NYC way – with natural, unbromated, unbleached flours, hand-rolled by seasoned hand-rollers, and kettle boiled daily. However, don't think they shy away from the new and creative just because they respect the past.
New Yorkers want it all; culture, entertainment on their doorstep and, pretty much the best and most of everything. And while they're willing to sacrifice square footage and open space, that doesn't mean they aren't gluttons for everything. Everything seasoning that is and Zucker's Flatiron sandwich is loaded with it. Everything-seeded nova lox, scallion cream cheese, fresh avocado and an extra container of everything seasoning for good measure.
More Details
This package serves 4 people and includes:
4 Bagels of your choice
1 lb. Scallion Cream Cheese
1 Avocado
1 Lb. Everything Seeded Lox
Everything Seasoning 4.5 oz.
1 Zucker's Cooler Bag
Shipping Details
Items are prepared fresh and shipped directly from the shop
Zucker's ships Monday-Friday of each week.
Orders cannot be shipped to P.O. Boxes
Orders shipped to Alaska and Hawaii via 2-day will incur an additional $20 charge or $35 for Overnight Shipping. Sorry guys!
Have more questions about Shipping? Read our Shipping FAQ page.
( )
Zucker's Bagels and Smoked Fish

CUSTOMER REVIEWS
The bagels were fresh and delicious. They disappeared very quickly. The lox was excellent. The cream cheese was very tasty. My family was pleased. I have never seen bagels leave the bag so quickly!
Debbie S. - Columbus, OH
09/09/19
Bagels were truly the New York cooking way a bagel should be. Really delicious in that they are very chewy and quite large (my husband and I split one) and it is very filling. These are truly worth ordering (of course free shipping ) makes them more affordable. I am in a rural area of VA and even the bagel shops a little ways from me can't compare and I can't bring myself to buy supermarket bagels.
Mary C. - Stanley, VA
08/28/19
The package arrived in perfect condition. The bagels, salmon and cream cheese were delicious. I recommend Goldbelly to friends looking for unusual food gifts to send their friends.
Barbara G. - Boca Raton, FL
08/28/19
Words can't do this product and service justice! All I can say is THANK YOU! we ordered bagels from Zuckers and they are perfect. We wanted to make a trip to New York this year but due to other obligations we can't. So we had a little of New York sent to us. Yum!
Valerie L. - Glouster, OH
08/29/19