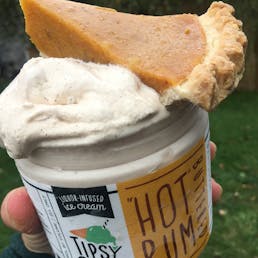 Thanksgiving Boozy Ice Cream
Who says you need to eat pie for dessert on Thanksgiving ? Tipsy Scoop has put together some of their best in one tryptophan free food coma worthy package of treats for you and your family to celebrate with.
More Details
Each package includes 4 pints of liquor infused ice cream.
All flavors contain 5% alcohol by volume and can only be consumed by those 21 and over.
Flavors Include
Salted Caramel Apple Brandy Ice cream infused with brandy made with sea-salted caramel, apples, cinnamon and nutmeg.
Spiked Spiced Pumpkin Pie Rum-infused ice cream with pumpkin, cinnamon, nutmeg and ginger.
"Hot" Buttered Rum Ice cream made with cinnamon and ginger and infused with rum
Vanilla Bean Bourbon Vanilla ice cream infused with bourbon
Instructions / Storage
Ice cream pints are carefully packed in an insulated shipping box with enough dry ice to keep the contents perfectly frozen. Don't worry, it's colder inside that box than it is in your freezer. Upon receipt, please place your pints in your freezer to store.
If you are looking to serve your pints right away but they arrive rock hard, simply place them on a counter or table top and let them rest for 10 minutes or until you can just slightly squeeze the pints.
Shipping Details
Items are prepared fresh and shipped directly from the shop
Tipsy Scoop Ice cream ships Monday-Friday of each week.
Ice cream contains 5% alcohol by volume, orders require signature upon delivery by recipient (must be 21+).
Orders cannot be shipped to P.O. Boxes.
Orders shipped to Alaska and Hawaii via 2-day will incur an additional $20 charge or $35 for Overnight Shipping. Sorry guys!
Have more questions about Shipping? Read our Shipping FAQ page.