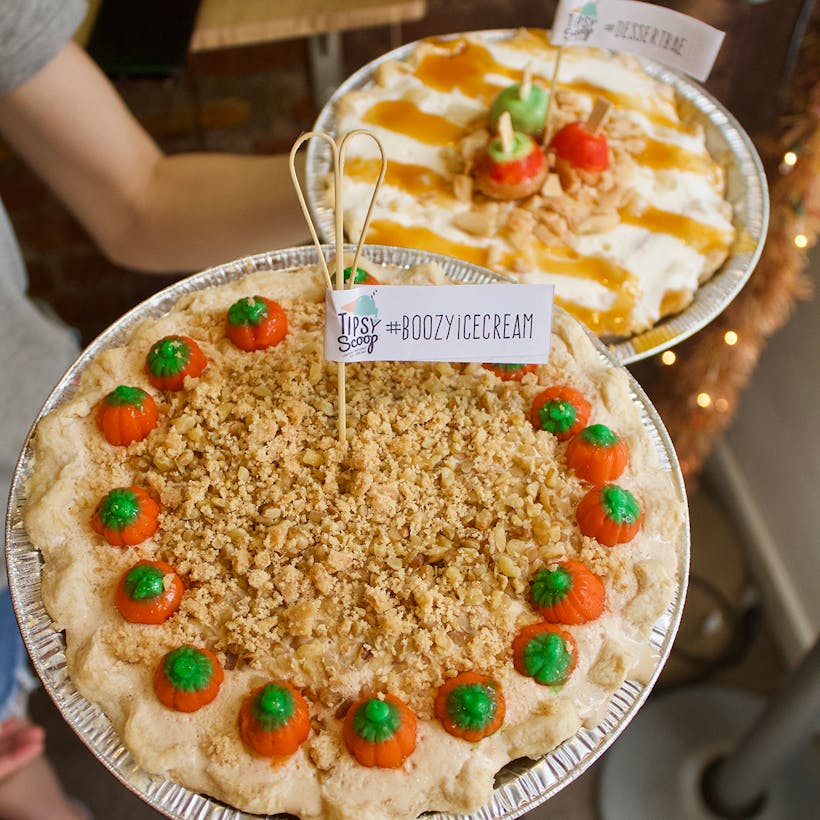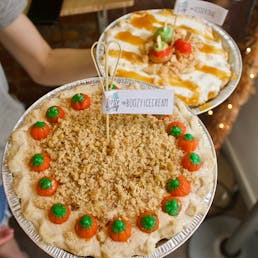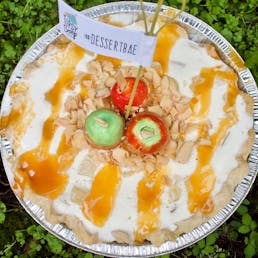 Boozy Ice Cream Pie - 2 Pack
Sweater Weather is also Pie Season, and what could make pies better other than a healthy dose of booze. This pack includes 2 Booze Infused pies, one with Spiked Spiced Pumpkin Pie ice cream, topped with graham cracker crumble, chopped walnuts, and candy pumpkins. The other made with Salted Caramel Apple Brandy ice cream, topped with a caramel drizzle, and "candy apple" cake pops
These pies are Limited Edition for the Thanksgiving Season. Collaboration with Harlem Pie Man & Laurie and Sons Toffee Company
More Details
This package includes:
1 Spiked Spied Pumpkin Pie, 9"
1 Salted Caramel Apple Brandy Pie, 9"
Each pie serves 8 people
All flavors contain 5% alcohol by volume and can only be consumed by those 21 and over.
Ingredients
Pumpkin Pie Ingredients- Ice Cream Ingredients: Milk, Cream, Sugar, Skim Milk, Whey, Dextrose, Guar Gum, Locust Bean Gum, Carrageenan, Dark Rum, Pumpkin Puree, Brown Sugar, Vanilla Extract, Pumpkin Pie Spice, Salt. Pie Shell Ingredients: Toppings ingredients: Walnuts, unbleached flour, sugar, soybean oil, honey, leavening, salt, soy lecithin, artificial flavor, sugar, corn syrup, confectioner's glaze, salt, honey, dextrose, artificial flavor, gelatin, titanium dioxide [color], yellow 6, yellow 5, red 3, blue 1, sesame oil Apple Brandy Ingredients- Ice Cream Ingredients: Pasteurized Grade A Cream, Milk, Sugar, Corn Syrup, Nonfat Dry Milk, Mono and Diglycerides, Guar Gum, Locust Bean Gum, Cellulose Gum, Calcium Sulfate, Carrageenan, Apple Brandy, Caramel, Apple, Ground Cinnamon, Nutmeg, Brown Sugar, Sea Salt Pie Shell Ingredients: Toppings: corn syrup, water, high fructose corn syrup, sugar, nonfat milk, heavy cream, salt, natural flavor, pectin, disodium phosphate
Instructions / Storage
Ice cream pies are carefully packed in an insulated shipping box with enough dry ice to keep the contents perfectly frozen. Don't worry, it's colder inside that box than it is in your freezer. Upon receipt, please place your pies in the freeze. They can be frozen for up to 6 months.
If you are looking to serve your pies right away but they arrive rock hard, simply place them on a counter or table top and let them rest for 10 minutes.
Shipping Details
Items are prepared fresh and shipped directly from the shop
Tipsy Scoop Ice cream ships Monday-Friday of each week.
Ice cream contains 5% alcohol by volume, orders require signature upon delivery by recipient (must be 21+).
Orders cannot be shipped to P.O. Boxes.
Orders shipped to Alaska and Hawaii via 2-day will incur an additional $20 charge or $35 for Overnight Shipping. Sorry guys!
Have more questions about Shipping? Read our Shipping FAQ page.