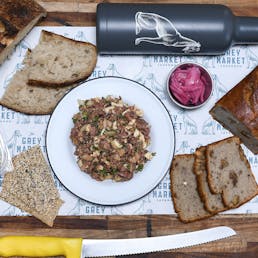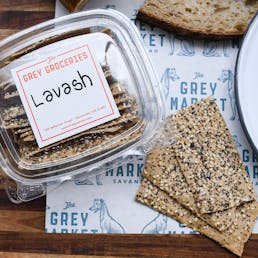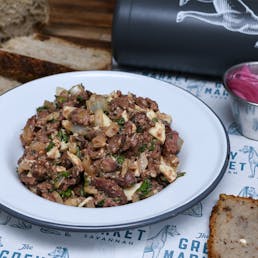 The team at The Grey wishes they could send the perfect chilled wine to go along with this Brunch, but instead threw in a wine carafe that keeps a WHOLE bottle of wine chilled all day. Yup, all of it. The wine guys at The Grey suggest a light red like Pinot or Gamay.
Pair this package of chopped chicken liver salad, pickled red onions, house-made rye bread, and lavash as you see fit. Be sure to pick a wine that goes perfect with a warmed piece of The Grey Market's seasonal loaf. Currently, banana bread.
The Grey was named one of "World's Best Restaurants" by Food & Wine and Chef Mashama Bailey was awarded "Best Chef – Southeast" by the James Beard Foundation. She was also featured on the Netflix series "Chef's Table" and was named as one of the "16 Black
 Chefs
 Changing 
Food in 
America" by the New York Times.
More Details
This package serves 6 people and includes:
32 oz. Chicken Liver Salad
5 oz. Lavash
8 oz. Pickled Red Onions
1 Loaf of Rye Bread
1 Seasonal Loaf (currently banana bread)
6 oz. Honey Butter
8 oz. Pickled Mustard Seeds
Wine Carafe, 750 mL
Ingredients
Contains: gluten, allium, and dairy
Chopped chicken liver salad with boiled egg, lavash, pickled red onions, house-baked rye bread, seasonal loaf, pickled mustard seeds, and honey butter
Instructions / Storage
Brunch will be shipped with ice packs, which may thaw in transit
The Grey Market's bread department baked this rye bread right before shipping, so eat right away.
Lavash may be kept at room temperature
Remaining items should be stored in the fridge for 2 more days
Shipping Details
Items are prepared fresh and shipped directly from the shop
The Grey ships Tuesday of each week
Orders cannot be shipped to P.O. Boxes
Orders shipped to Alaska and Hawaii will incur an additional $35 charge for Overnight Shipping. Sorry guys!
Have more questions about Shipping? Read our Shipping FAQ page.