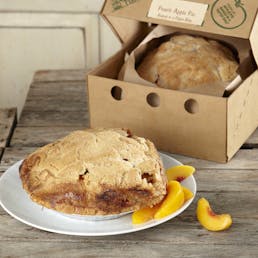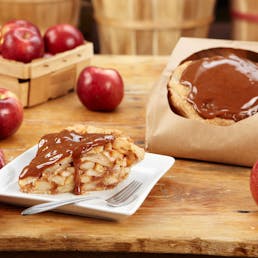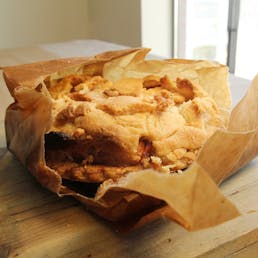 "World Famous" Brown Bag Apple Pie - Choose Your Own - 2 Pack
Normally, this would be where we would tell you how incredible this apple pie is. How it is so stuffed with perfectly cooked, incredibly juicy apples, the crust positively bulges. How, being baked in a paper bag makes the top crust uniquely crunchy while keeping the bottom crust amazingly light and flakey, a hallmark of the best old-fashioned crust. How the delicate, golden brown crust and hearty sweet-tart apples combine to make a deliciously perfect pie. But don't trust us. Trust the Wall Street Journal. Trust Gourmet. Trust the Food Network. They have all awarded the Elegant Farmer's Apple Pie Baked in a Paper Bag the "best pie in America." And we couldn't agree more.
More Details
Each Brown Bag Apple Pie is 8" and serves 6-8 people
Choose from flavors
"World Famous" Brown Bag Apple Pie
Brown Bag Caramel Apple Pie
Brown Bag Peach Apple Pie
Brown Bag Rhubarb Apple Pie
Brown Bag Blueberry Apple Pie
Brown Bag Strawberry Rhubarb Apple Pie (Seasonal April – Oct)
Brown Bag Cranberry Apple Pie
Brown Bag Apple Crisp
Brown Bag Cherry Crisp
Ingredients
Apples, Granulated Sugar, Butter (cream & salt), Enriched Flour (Wheat Flour, Niacin, Iron, Thiamin Mononitrate, Riboflavin, Folic Acid, Enzyme), Lemon Juice (Filtered water, Lemon Juice Concentrate, Sodium Bisulfite, Sodium Benzoate, Lemon Oil), Rice Flour, Tapioca Granules, Cinnamon, Pie Shell (Wheat flour [Unenriched, Unbleached flour], Lard, Water, Dextrose, Salt, Baking Soda)
Instructions / Storage
Pies ship frozen on dry ice. Store up to 90 days in the freezer.
Place "Pie in Bag" on a baking tray.
DO NOT let the bag touch the sides of the oven or the heating elements.
Frozen Pies: Bake for 50-60 minutes at 325 degrees
Thawed Pies: Bake for 8-10 minutes at 425 degrees
Download Storage and Prep Instructions
Shipping Details
Items are prepared fresh and shipped directly from the shop
Pies ship Monday-Thursday of each week.
Orders cannot be shipped to P.O. Boxes.
Orders shipped to Alaska and Hawaii via 2-day will incur an additional $20 charge or $35 for Overnight Shipping.
Have more questions about Shipping? Read our Shipping FAQ page.