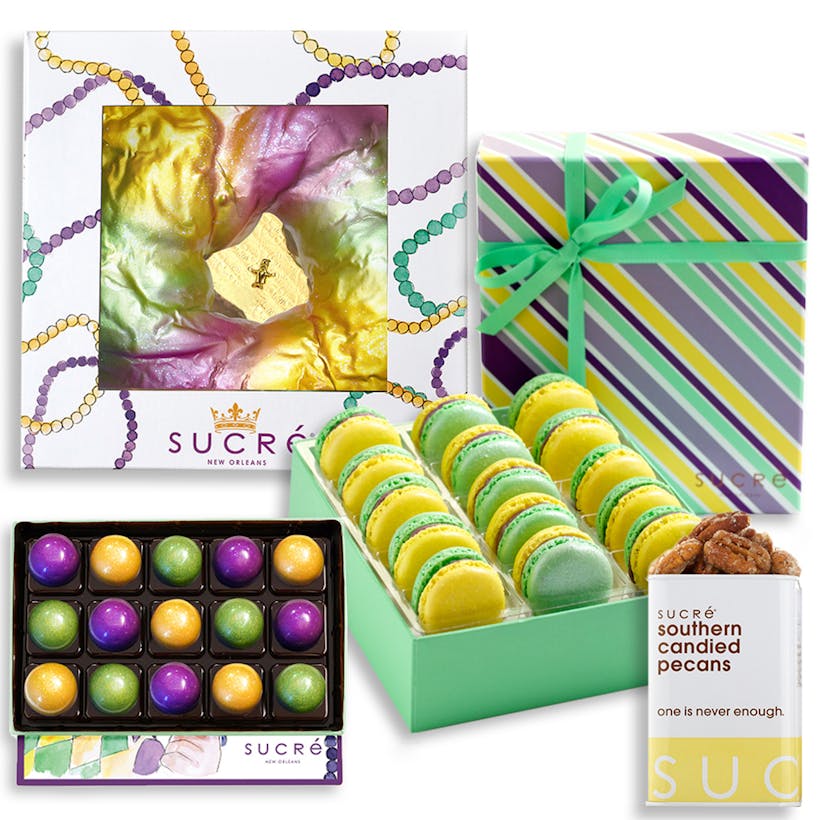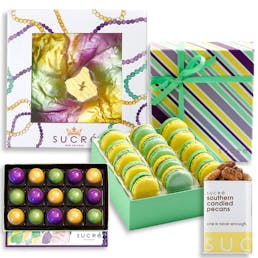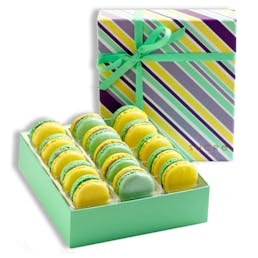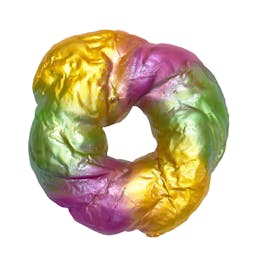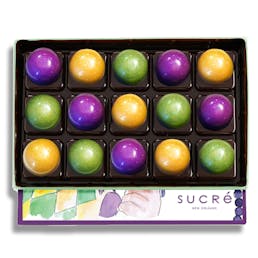 All things Mardi Gras in one set! Enjoy a Sucre King Cake, our King Cake flavored macarons, our Carnival chocolates as well as our Southern Candied Pecans!
Since 2007, the pastry chefs at Sucré New Orleans have been hand crafting sweets like French macarons, chocolate bars, marshmallows, and southern candied pecans. Sucré, which was started on Magazine Street in New Orleans, has grown to include three retail locations in addition to their confection studio. Today, they fill over 6,000 French macarons by hand every day!
More Details
Each Carnival Party Gift Box includes:
1 Sucre King Cake, approximately 10"
15pc Mardi Gras Macaron
15pc Mardi Gras Chocolate
1 can of Southern Candied Pecans
3 Mardi Gras Beads
1 Mardi Gras Baby
Chocolate Flavors Include
Crème Brulee – Velvety vanilla custard ganache finished with caramelized sugar
Southern Pecan Praline – Milk chocolate with crush handmade pralines
King . Cake – A New Orleans classic infused into a single bean chocolate ganache
Ingredients
may contain nuts and nut oils
Contains: Gluten, Dairy, Nuts, & Eggs
Instructions / Storage
Each cake arrives fresh and ready to eat right out of the box. We've found Sucré's King Cake is best served slightly warm. Remove all packaging and place the cake in the microwave for approximately 10 seconds for a delicious breakfast, snack or dessert.
The cake can be kept at room temperature for up to 4 days and stored in the fridge for 1-2 weeks. The cake can be frozen for up to three months.
The filled chocolates are best eaten within 21 days. Macarons are best within 7 days (refrigerate in an airtight container until served).
Shipping Details
Items are prepared fresh and shipped directly from the shop
Sucré ships Monday-Thursday of each week.
Orders cannot be shipped to P.O. Boxes
Orders shipped to Alaska and Hawaii via 2-day will incur an additional $20 charge or $35 for Overnight Shipping. Sorry guys!
Have more questions about Shipping? Read our Shipping FAQ page.