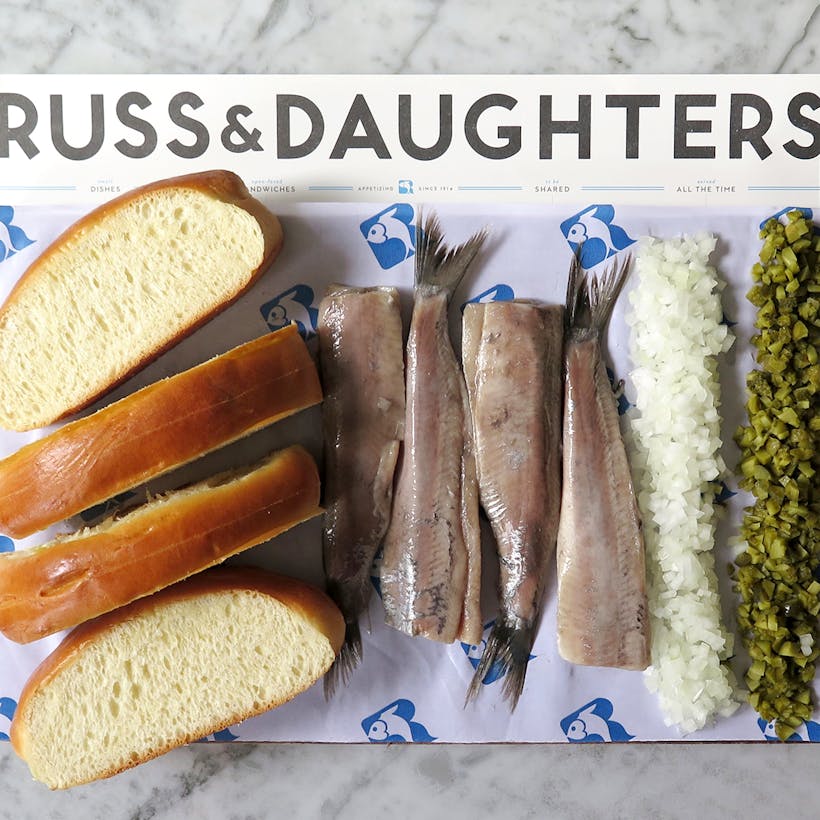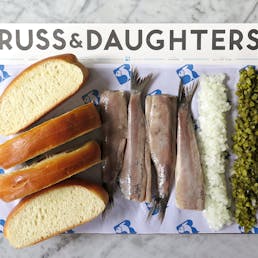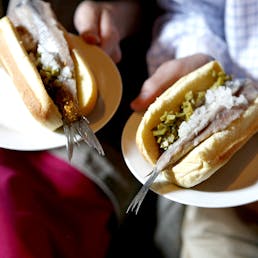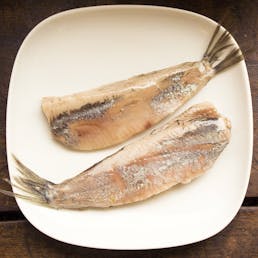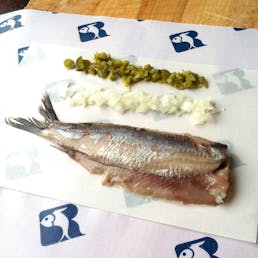 Holland Herring is a gastronomic heaven, a fabulous buttery and mild matjes (young) herring unlike any other, due to its exceptionally high and healthy omega-3 fat content.The herring is caught and fillted on boats in Holland, and shipped directly to Russ & Daughters. Many compare its buttery texture and delicate flavor to the finest sashimi.
One tray has ten filleted herring. Each herring is two fillets attached at the tail. Traditionally, the Holland Herring is eaten by holding the whole herring by the tail and dropping it into your mouth. Visitors to Russ & Daughters are likely to see aficionados partaking of this food ritual right at the counter.
The New York Times has called Russ & Daughters "the city's herring-to-go headquarters," (R.W. Apple Jr., "Herring: The Fish That Roared," NYT, 10/30/02). Russ & Daughters herring and the Russ & Daughters Herring Festival were featured in a "Talk of the Town" story by Oliver Sacks in The New Yorker.
Ruth Reichl wrote, in Gourmet Magazine, "My father claimed that my mother seduced him with herring-and then never served it again. He loved that fish, and he waited eagerly each year for the New Catch Holland Herring to arrive. If you think about the delicate flavor of sashimi compared with cooked fish, you get some idea of the New Catch's subtlety. The taste is both sweet and briny, and the texture has a remarkably tender, almost buttery quality. You can order New Catch now from Russ & Daughters. If Dad were still around, I know exactly what I'd be getting him for Father's Day."​
This year, the Holland Herring season will begin on June 12. The Russ & Daughters Herring Pairing at Russ & Daughters at the Brooklyn Navy Yard will be on June 25.
More Details
This package includes 1 Tray of 10 Filleted Herring
Bread, capers and onions not included
This product is not eligible for discounts or promotions, unless otherwise noted. Also, it cannot be purchased with promotional gift cards or referral credits.
Shipping Details
Items are prepared fresh and shipped directly from the shop
Russ & Daughters ships Monday-Friday of each week
No deliveries Sunday or Monday
Orders cannot be shipped to P.O. Boxes
Orders shipped to Alaska and Hawaii will incur an additional $35 charge for Overnight Shipping. Sorry guys!
Have more questions about Shipping? Read our Shipping FAQ page.