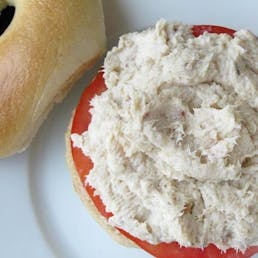 Whitefish & Baked Salmon Salad
This is by far one of Russ & Daughters' most popular items; some fans even call it an addiction. The Russ family recipe of the traditional whitefish salad calls for an added amount of Baked Salmon (also called Kippered Salmon) for what has been called one the "Best Foods in the Whole Wide World." Try it on its own and you'll see why, or combine with our horseradish cream cheese and wasabi infused flying fish roe for our famous sandwich, The Super Heebster.
More Details
This product is not eligible for discounts or promotions, unless otherwise noted. Also, it cannot be purchased with promotional gift cards or referral credits.
Instructions / Storage
We do not add any preservatives to our homemade salads. The egg, tuna, chopped liver, and whitefish/baked salmon salad should be enjoyed within 3 days after receiving your delivery. The beet, apple & herring salad should be enjoyed within 5 to 7 days after receiving your delivery. The chopped herring and the smoked salmon tartare should be enjoyed within 7 to 10 days after receiving your delivery.
Shipping Details
Items are prepared fresh and shipped directly from the shop
Russ & Daughters ships Monday-Friday of each week
No deliveries Sunday or Monday
Orders cannot be shipped to P.O. Boxes
Orders shipped to Alaska and Hawaii will incur an additional $35 charge for Overnight Shipping. Sorry guys!
Have more questions about Shipping? Read our Shipping FAQ page.