Goldbelly "Burger Bash" Pack
The "Goldbelly Burger Bash" package is a mix of Pat's most popular burger blends: Original, Short Rib, Dry-Aged, and Goldbelly's own custom Gold Label Burger Blend . We are sure that somewhere in this package is your new favorite burger!
LaFrieda's meat has never been frozen and will arrive to you fresh. These meats are cut by their expert butchers alongside orders from some of the most famous chefs in the world.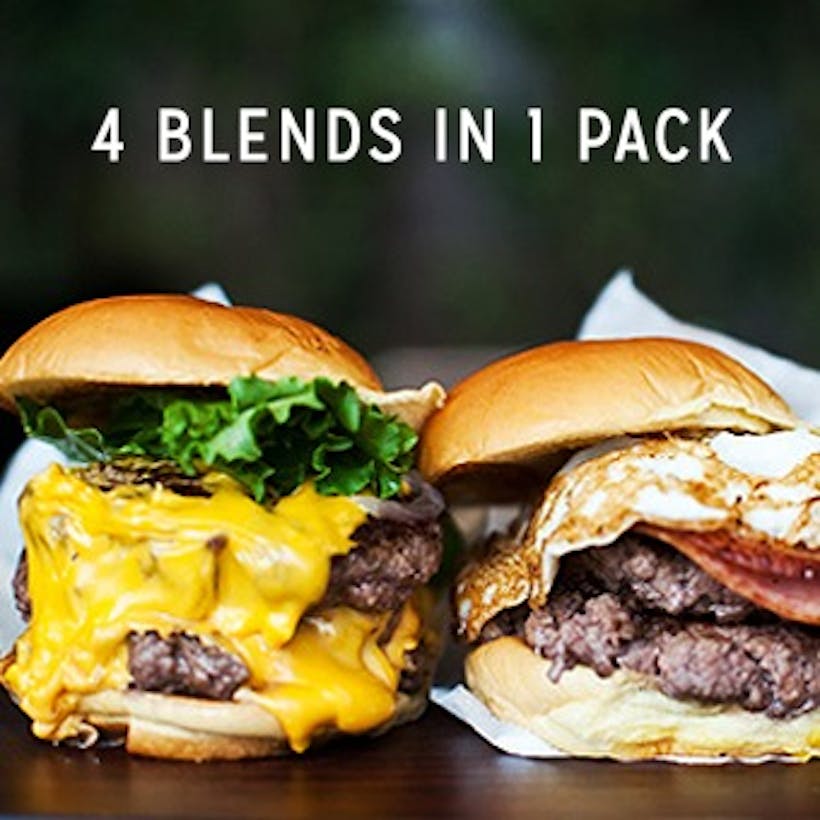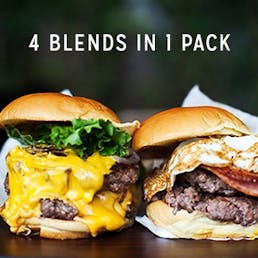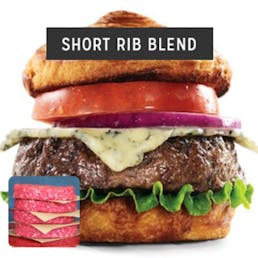 More Details
This pack includes 4 packs of burgers, 16 patties total
The Gold Label Burger Blend (4 Patties)
The Original Burger Blend (4 Patties)
The Short Rib Burger Blend (4 Patties)
The Brisket Burger Blend (4 Patties)
Each patty is approximately 6 oz. each
FREE SHIPPING to NY, NJ, CT, RI, MA, NH, VT, PA, DE, MD, & D.C.
Please Note:
Buns & condiments pictured are not included with this product.
Instructions / Storage
Burgers ship fresh, never frozen, uncooked, and with ice packs, may thaw in transit
When you receive your order you should immediately refrigerate all meat items
We recommend that you eat all meat products within 1 week of arrival for best results
Once items are removed from the plastic, they should be consumed within 48 hours
We do not recommend freezing product as freezing instantly degrades its quality.
Heating Instructions
Heat a skillet or pan over medium heat.
Lightly season each side of the burger with salt. Burger should be fully defrosted, but still cold.
When pan is heated (about 5-6 minutes), drizzle a few drops of oil and place burgers on pan. Do not overcrowd.
Flip burger once based on desired doneness (chart below). Upon flipping, top with slice of cheese if desired.
Use a thermometer to confirm the done temperature before removing burgers from pan.
Rest burger for 5 minutes before placing on bun.
Shipping Details
Items are prepared fresh and shipped directly from the shop
Pat LaFrieda Meat Purveyors ships Monday-Friday of each week.
Orders cannot be shipped to P.O. Boxes.
Orders shipped to Alaska and Hawaii via overnight will incur an additional $35 charge. Sorry guys!
Have more questions about Shipping? Read our Shipping FAQ page.
( 4.8)
Pat LaFrieda Meat Purveyors

CUSTOMER REVIEWS
The selection of the meats were great and when cooked is tasty and amazing. Spending close to 100 dollars for eight burger patties is pretty expensive but it's definitely worth it.
Desmond Robinson - Compton, CA
08/28/19
Each burger was to die for! My husband can't stop grinning.
Jillianna G. - Wilmington, DE
09/16/19