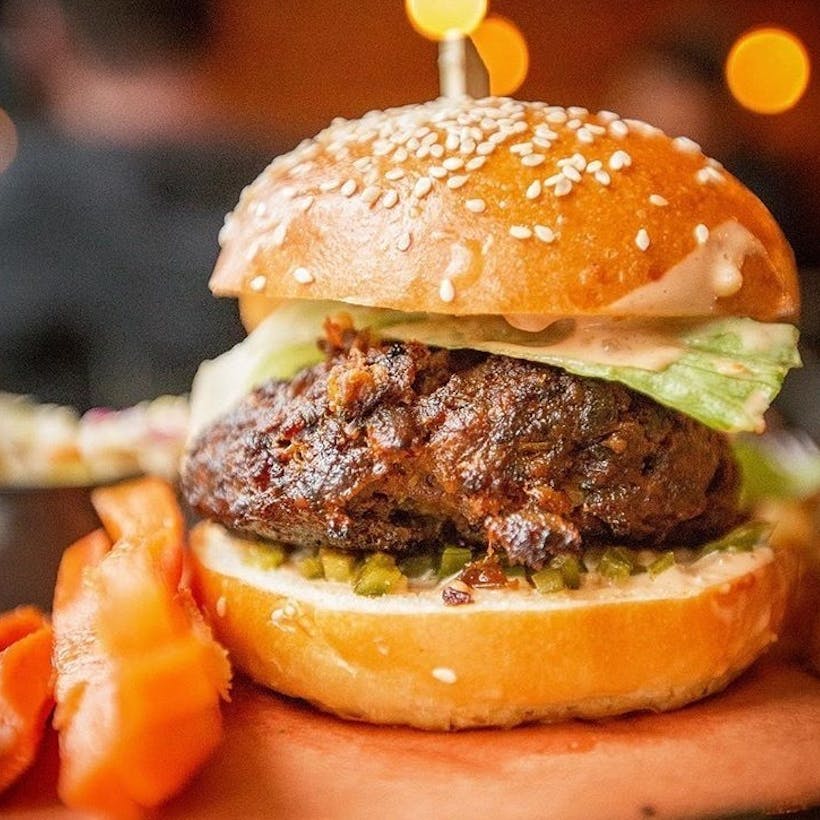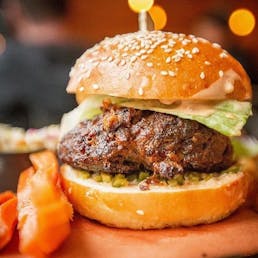 BBQ Dinner for 4 - Bronto Rib, Burnt Ends & Sides
Combining the best parts of Texas and Carolina BBQ, the Mighty Quinn's team has created something uniquely their own. This BBQ Dinner for 4 is the perfect way to gather some friends, featuring some of their favorite all natural meats, each hand rubbed and smoked to perfection.
More Details
Each package serves 8 and includes:
4 lbs. of Burnt Ends – The flat ends of Mighty Quinn's naturally raised brisket simmered in their house made

BBQ

sauce. They are the perfect mix of not too sweet, a little spice and the perfect amount of smoke
1 Bronto Rib – An on-the-bone short rib that smokes for up to 18 hours. It's the most tender beef rib you will ever eat (11-14 inches long, 2 lbs.)
1 Bottle of house made

BBQ

sauce (16 oz.)
1 Side of your choice
Side Options Include
1 Tray of Sweet Potato Casserole (10.5″ × 12.5″ × 3″) – Made with sweet potatoes mixed with pecans and maple.
1 Tray of Mac & Cheese (10.5″ × 12.5″ × 3″) – Creamy four cheese mac & cheese with a crispy rosemary & garlic crumb crust. This dish is the Winner of Timeout NYC's Mac & Cheese Smackdown 2017!
1 Tray of S'Mores Bread Pudding (10.5″ × 12.5″ × 3″) – Comes with 1 bottle of housemade crème anglaise (8 oz.)
32 oz. of Burnt End Baked Beans – Baked beans mixed with their delicious Burnt Ends
Instructions / Storage
Meats are fully cooked, frozen and shipped on ice packs that may thaw partially or fully during transit
Upon arrival, place in fridge for up to a week
Reheating Instructions
Burnt Ends
Thaw in refrigerator for 2 days before heating
Preheat oven to 250 degrees
Empty contents of cryovac bag into an oven safe heating dish and cover dish with aluminum foil
Heat in oven for 45 minutes and enjoy!
Bronto Rib
Preheat oven to 225 degrees
Remove ribs from plastic packaging and place ribs in a deep pan bone side down
Add 1/4" of water to pan just below the meat. Cover pan with aluminum foil (making sure the seal around the pan is tight). Heat for 1 hour or until internal rib temperature is 165 degrees
Remove ribs from oven and let rest for 10 minutes. Serve and enjoy!
Shipping Details
Items are prepared fresh and shipped directly from the shop
Mighty Quinns

BBQ

ships Tuesday-Thursday of each week
Orders cannot be shipped to P.O. Boxes
Orders shipped to Alaska and Hawaii via 2-day will incur an additional $20 charge or $35 for Overnight Shipping. Sorry guys!
Have more questions about Shipping? Read our Shipping FAQ page.
( 4.8)
Mighty Quinn's BBQ

CUSTOMER REVIEWS
I ordered the BBQ sides so I wouldn't have to cook this weekend. The Mac and Cheese is completely amazing. The Sweet Potato Casserole equally delicious. I haven't even opened the beans yet because these 2 sides are huge and so delicious that I completely forgot the brisket we smoked as I plowed through the sides! Will definitely repeat this order especially if its for a crowd! EXCELLENT!!
Althea D. - Chamisal, NM
09/24/18