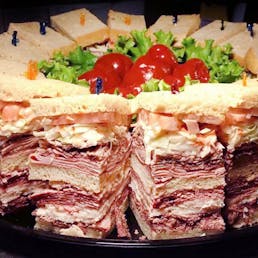 Triple Decker Sandwich Kit for 6
Get your friends and family together for Liebman's Triple Decker Sandwich—complete with the meat of your choice, classic rye bread, deli mustard and pickles!
When Joseph Liebman opened his restaurant in 1953, there were over 100 Jewish delis in the Bronx. Today, Liebman's is the only one standing. For too many people, stepping into Liebman's is a time warp—from its simple neon sign, to the no frills Formica tabletops and padded booths, this deli is a genuine taste of old New York.
More Details
This package makes 6 sandwiches (serves 6-8) and includes:
3 lbs. of Meat of your choice
1 Quart of Pickles
18 Slices of Rye Bread
Russian Dressing (1/2 lb.)
Coleslaw (1 lb.)
Choose to add a Liebman's T-shirt
Kosher certified
Meat Options Include
Pastrami
Corned Beef
Brisket
Tongue
Salami
Ingredients
Corned Beef: kosher beef, water, salt, spices
Pastrami: Beef, water, salt, spices
Rye Bread: flour, water, yeast, salt
Pickles: cucumber, water, salt, spices.
Deli Mustard
Instructions / Storage
Sandwich kit is shipped with ice packs which may thaw partially or fully during transit
Meat is made to order and flash frozen for shipping
Upon arrival, place the meat, pickles and mustard in the refrigerator. To serve later, place the meat and bread in the freezer
Allow meat to thaw in the refrigerator for a few hours or on a countertop before serving
To serve, follow the instructions below
Heating Instructions
Boil a large pot of water
Place the entire package of meat into the water and reduce heat to low (do not open package prior to submerging. And don't worry, the plastic is designed withstand the heat)
If meat is thawed, heat for 5-6 minutes. If frozen, heat for 10-15 minutes
Remove from heat and slice open package
Your sandwich is ready for assembling!
Shipping Details
Items are prepared fresh and shipped directly from the shop
Liebman's Deli ships Monday through Friday of each week
Orders cannot be shipped to P.O. Boxes
Orders shipped to Alaska and Hawaii via 2-day will incur an additional $20 charge or $35 for Overnight Shipping. Sorry guys!
Have more questions about Shipping? Read our Shipping FAQ page.