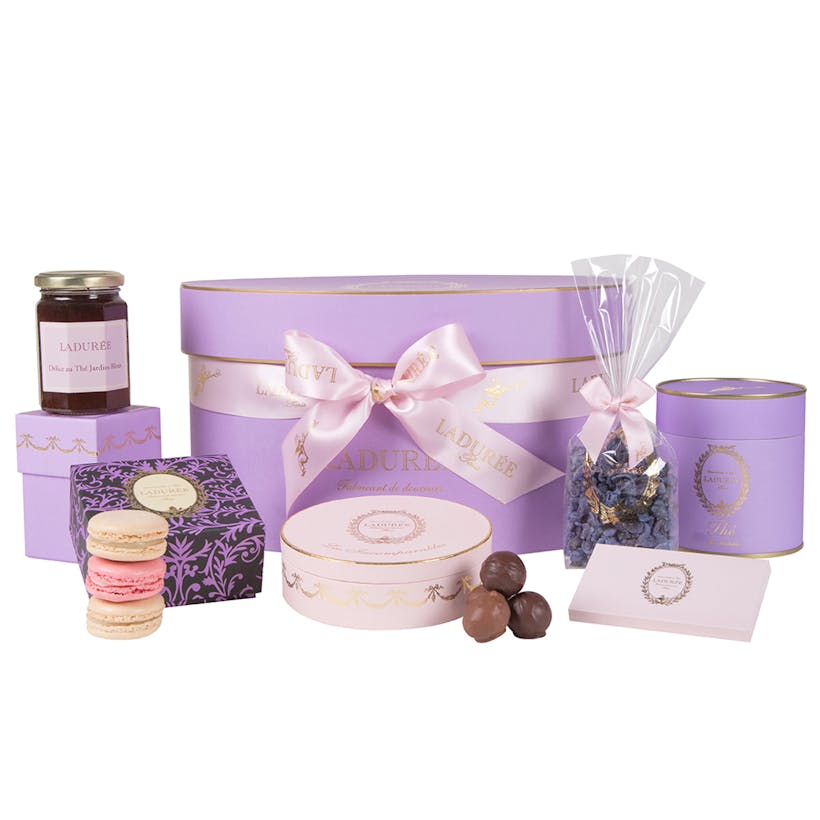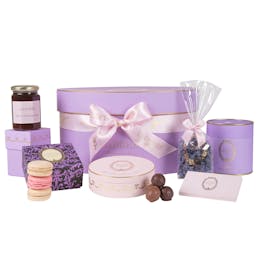 Ladurée, the famous French luxury bakery and sweets company founded in 1862—and one of Paris' first "salons de thé," or tea salons—is one of the world's best-known sellers of the macaron, and other delicacies.
This precious case contains a wealth of sweets and gourmandises: macarons, chocolates, tea and jam.
More Details
This package arrives in a special purple hat box and includes:
Arabesque Macaron Gift Box, 8 assorted macarons
Apricot Jam, 230 g
Incomparables Box, 12 assorted caramel filled chocolates
Crystallized Violet Candies, 100 g
Rose Mini chocolate bar, 100 g – "Ivory" chocolate flavored with rose
Mathilde Loose Tea Box, 125 g
This product is not eligible for discounts or promotions, unless otherwise noted. Also, it cannot be purchased with promotional gift cards or referral credits.
Ingredients
INCOMPARABLES :
Allergens: milk, soya and may contains nuts.
MINI CHOCOLATE BAR :
Allergens: milk, soya and may contains nuts.
MATHILDE TEA :
Ingredients: Ingredients: Magnolia China black tea (75%), China black tea (23%), orange blossom petals, aroma: orange blossom. Allergens : May contain nuts.
JAM : Apricot
CRYSTALLIZED VIOLETS:
Allergens : milk, nuts.
Instructions / Storage
For optimal taste, your Ladurée Macarons are best kept in a cool place and consumed within 4 days of packaging date
Chocolate is best before 5 weeks
Jam can be stored in the refrigerator once opened for up to one month
Teas should be kept in a cool, dry room
Shipping Details
Items are prepared fresh and shipped directly from the shop
Ladurée ships Monday-Friday of each week
Orders cannot be shipped to P.O. Boxes
Orders shipped to Alaska and Hawaii via 2-day will incur an additional $20 charge or $35 for Overnight Shipping. Sorry guys!
Have more questions about Shipping? Read our Shipping FAQ page.