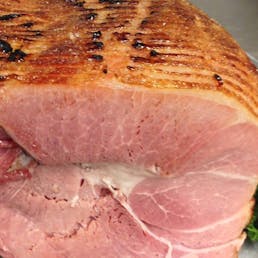 Let your inner Cajun loose this Thanksgiving with this combo of Turducken and glazed ham.
More Details
Each package serves approximately 20 people and includes:
Large Turducken with Cajun Cornbread Stuffing weighs at least 16 lbs
Ham weighs 5-7 lbs – Choose Honey Glazed or Cajun Honey Glazed
Instructions / Storage
Turduckens arrive frozen and can be stored in the freezer for up to 6 months upon arrival. When ready to eat, place in a pan & thaw in the refrigerator approximately 3 days prior to cooking. Remove plastic wrap. Bake breast down at 375°F for 3 hours covered and 1 hour uncovered or to internal temperature is above 165°F.
Thawing Instructions:​ Turduckens take 3 days to thaw in the refrigerator or they can be thawed in a sink of cold tap water for about 8 hours.
Glazed Hams arrive cooked. Place the ham on a rack in a roasting pan. Add water to the bottom of the pan and cover it tightly with foil. Bake at 325 F for 18 to 20 minutes per pound until a meat thermometer registers 140 F. Uncover & increase the heat to 400 F and bake for 15 to 20 minutes longer until the glaze is burnished.
Shipping Details
Items are prepared fresh and shipped directly from the shop
Hebert's Specialty Meats ships Monday-Thursday of each week
Orders cannot be shipped to P.O. Boxes
Orders shipped to Alaska and Hawaii via 2-day will incur an additional $20 charge or $35 for Overnight Shipping. Sorry guys!
Have more questions about Shipping? Read our Shipping FAQ page.