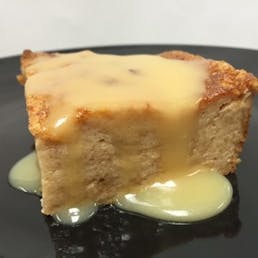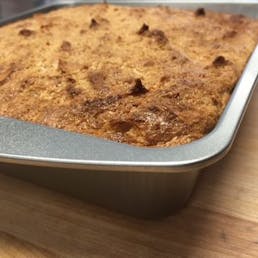 Cajun Bread Pudding Kit - 2 pack
The Gourmet Butcher Block's sublime version of one of the Crescent City's most famous desserts is homemade using New Orleans French bread, whole milk, cinnamon, eggs & sugar. Each one is personally mixed by Leah Mistich, who also mixes her special homemade Vanilla Cream sauce using butter, sugar, evaporated milk and all natural pure vanilla. All we can say is, "mmmmmmm".
This package includes 2 complete Bread Pudding Kits. Just pour, bake and enjoy!
More Details
Each pack comes with everything needed to bake and serve 2 bread pudding dishes
Each dish serves 9 people (18 total per order)
Each pack includes:
2 Cajun Bread Pudding Mixes
2 Vanilla Cream Sauces
2 Baking Pans
Instructions / Storage
Thaw bread pudding mix and sauce. Preheat your oven to 325 degrees. Pour the bread pudding mix into the baking pan and bake for 50-60 minutes uncovered. Bake time can vary depending on your oven, some extra time may be needed. Bread pudding will turn golden brown and will rise almost twice its size when fully baked. When ready, remove from the oven and let cool for 15 minutes – Bread Pudding will return to flat while cooling. Pour the Vanilla Cream Sauce over the cooked bread pudding and serve. Best enjoyed warm!
Download Storage and Prep Instructions
Shipping Details
Items are prepared fresh and shipped directly from the shop
The Gourmet Butcher Block ships Monday-Thursday of each week
Orders cannot be shipped to P.O. Boxes
Orders shipped to Alaska and Hawaii via 2-day will incur an additional $20 charge or $35 for Overnight Shipping
Have more questions about Shipping? Read our Shipping FAQ page.