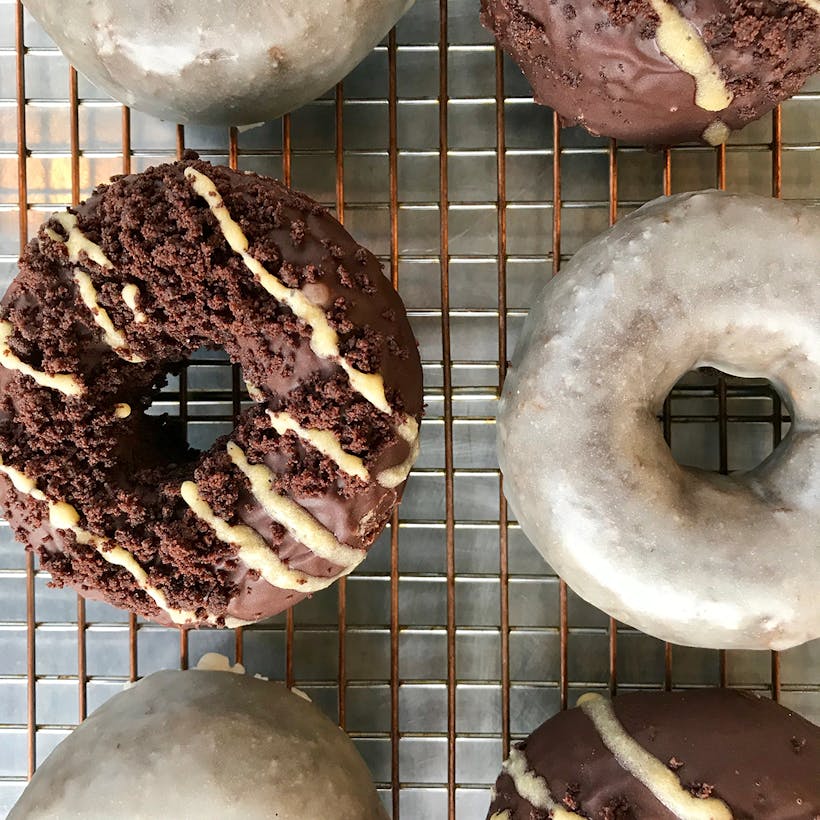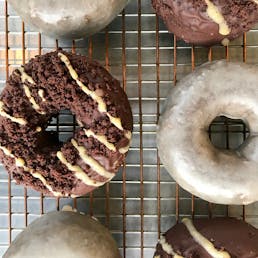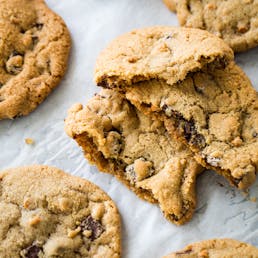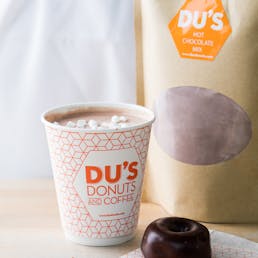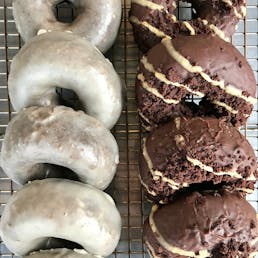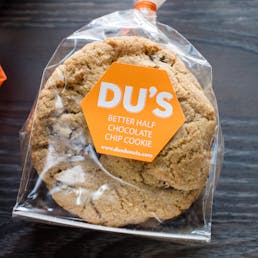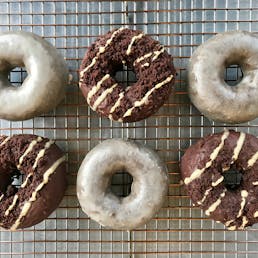 Du's Donuts & Coffee, in Williamsburg, Brooklyn, serves renowned chef Wylie Dufresne's latest creations: meticulously perfected cake donuts in classic and imaginative flavors.
This box is made for all chocoholics, self proclaimed or not! Indulge in 6 chocolate packed donuts, a pack of Decadent Hot Chocolate Mix, and four chocolate chip butterscotch cookies, aptly called the Better Half cookies
More Details
This package serves 4-6 people and includes:
3 Chocolate Caramel Brownie Donuts – chocolate cake donut, dark chocolate glaze, brownie crumble, caramel icing
3 Chocolate Vanilla Donuts – chocolate cake donut, vanilla bean glaze
1 Pack of Hot Chocolate (16 oz.)
1 Pack of Better Half Cookies (4 cookies total)
Ingredients
Donuts: AP flour, baking powder, butter, cocoa, whole milk, milk powder, egg, nutmeg, canola oil (non-GMO). Glazes vary.
Hot Chocolate: Ovaltine, cocoa powder, confectioner's sugar, granulated sugar, corn starch, salt, 32% chocolate
Better Half Cookies: Butter, sugar, brown sugar, egg, AP flour, baking soda, salt, semi-sweet chocolate, butterscotch
Instructions / Storage
Donuts & Cookies can be stored at room temperature and are best eaten immediately or within 1-2 days of receiving
Hot Chocolate can be stored at room temperature for up to 3 months after opening
To serve Hot Chocolate, simply add your choice of milk or water
Shipping Details
Items are prepared fresh and shipped directly from the shop
Du's Donuts ships Monday-Friday of each week
Orders cannot be shipped to P.O. Boxes
Orders shipped to Alaska and Hawaii via 2-day will incur an additional $20 charge or $35 for Overnight Shipping. Sorry guys!
Have more questions about Shipping? Read our Shipping FAQ page.