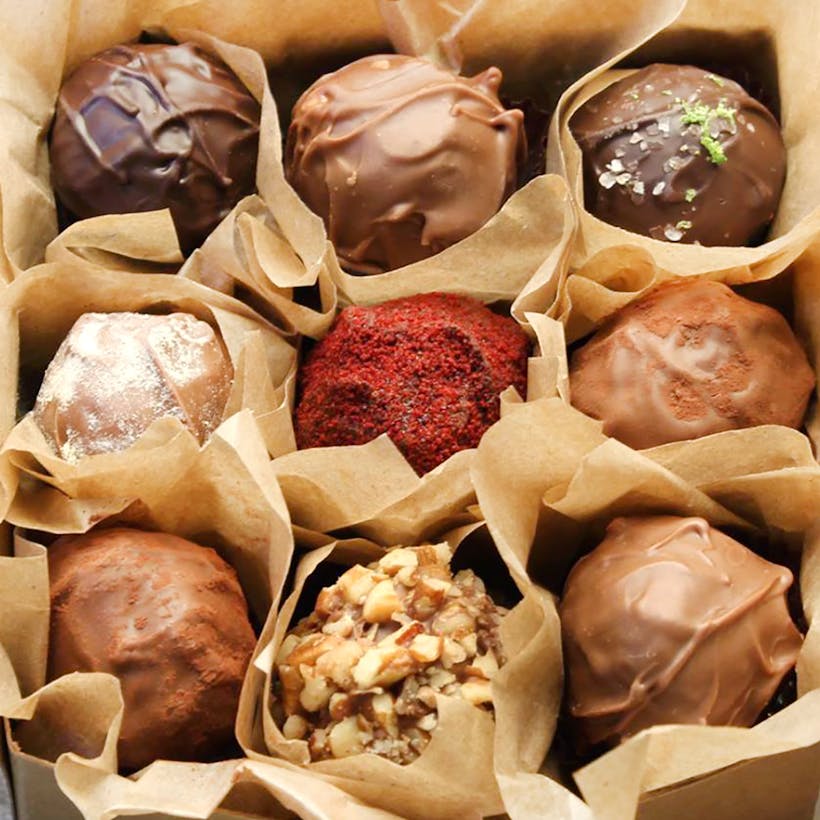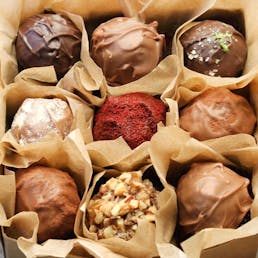 "Living Dangerously" Assorted Ugly Truffles - 18 Pack
When owner Mary Winslow left her publishing sales job and started baking in 2000, she never imagined she'd end up becoming one of Chicago's top resources for spectacular sweets. Today, her "Damn Good Cookies," "Jar'd" cakes and more have delighted fans from all over the country, including Martha Stewart!
Their shapes may be irregular and their names may be sassy, but there's nothing ugly about these heavenly, whimsical truffles. Living Dangerously Truffle Assortment…designed especially for the palate that craves a ride on the wild side or a rock star's night out. Perfect if your taste buds are okay with not knowing where they've woken up the next morning. No "walk of shame."
More Details
This package includes 18 Assorted Truffles in a beautiful gift box. 2 each of the following flavors:
Gordito Picante Chocolate – mexican chocolate warmed with chili spices and surrounded by milk chocolate and toasted corn tortillas (gluten free)
Loco Chocolate – bittersweet tequila ganache surrounded by bittersweet chocolate , topped with sea salt and lime zest salud! (gluten free)
Messed-Up Mocha Chocolate – milk chocolate espresso ganache surrounded by milk chocolate and dusted in cocoa (gluten free)
Surly Stout Chocolate – stout ganache surrounded by milk chocolate and dusted with malt
Morning After Merlot Chocolate – merlot ganache surrounded by bittersweet chocolate and rolled in red velvet cake crumbs
Oozy Boozy Caramel Chocolate – creamy caramel center surrounded by brandy milk chocolate ganache and rolled in toasted pecans (gluten free)
Put Your Clothes on Chocolate – bittersweet chocolate ganache surrounded by bittersweet chocolate (gluten free)
Instructions / Storage
Truffles are made to order and arrive ready to enjoy!
Upon arrival, place in the refrigerator or freezer to enjoy later. Truffles can be stored in the refrigerator for 2 weeks or in the freezer for up to 3 months
Download Storage and Prep Instructions
Shipping Details
Items are prepared fresh and shipped directly from the shop
cake ships Monday-Thursday of each week
Orders cannot be shipped to P.O. Boxes
Orders shipped to Alaska and Hawaii via 2-day will incur an additional $20 charge or $35 for Overnight Shipping. Sorry guys!
Have more questions about Shipping? Read our Shipping FAQ page.