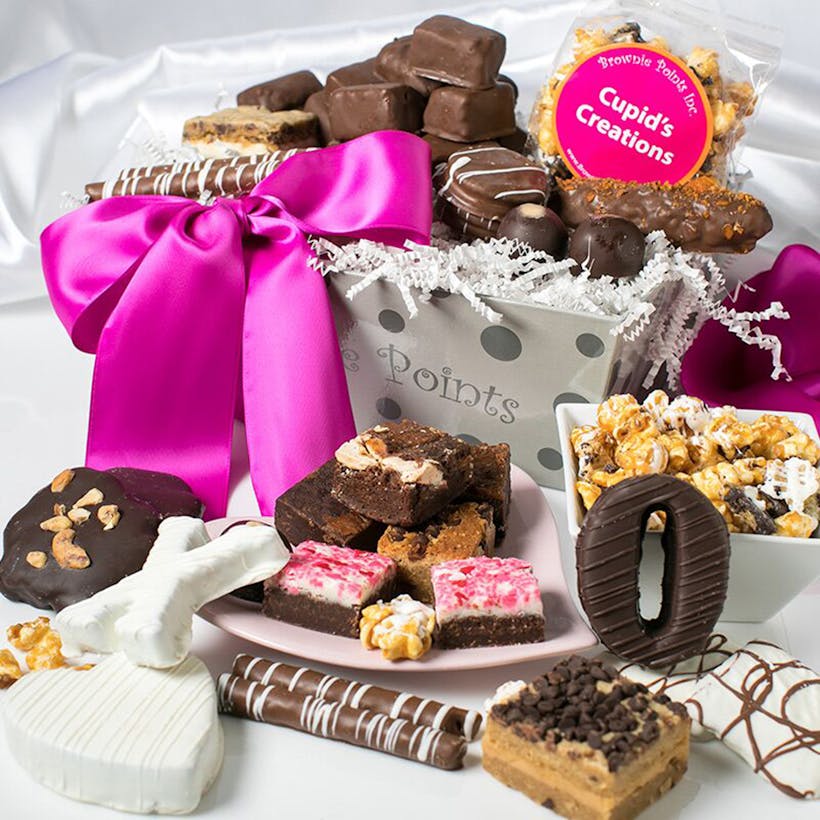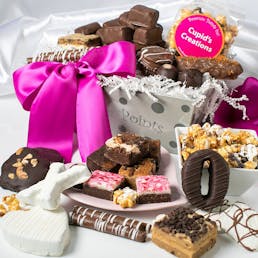 Send the XOXO basket, but be careful you may get a proposal! Our gourmet Valentine's Day basket is filled to the brim with our award winning gourmet Baby Brownies, Irresistible Chocolate Confections, Love Bites and Cupid's Creations Popcorn. You will steal their heart and then some! 
Columbus-based brownies from Brownie Points are pretty much the fudgiest, most chocolatey things ever. You won't be able to take your eyes off of these adorable and scrumptious Baby Brownies neatly snuggled in a box!
More Details
Each Valentine's XOXO Gift Basket includes:
4 Baby Brownies (1.5" each)
2 Ganache Baby Brownies (1.5" each)
1 lb. Chocolate Covered Edgies (Love Bites)
2 Bags of Popcorn (3.5 oz. each)

1 Cupid's Creation
1 Other Flavor

3 Buckeyes (.85 oz. each)
1 Turtle (2 oz. each)
1 Bear Claw (2 oz. each)
2 Black & White Sandwich Cookies (2.25 oz. each)
2 Black & White Chocolate Covered Grahams (1.6 oz. each)
4 Hand Dipped Pretzel Rods (.5 oz. each)
1 Chocolate Caramel Crunch Pretzel Rod (.5 oz)
2 Cookies & Cream
1 Large Chocolate Covered Brownie Shaped Heart
1 Large Chocolate Covered Brownie Shaped 'X'
1 Large Chocolate Covered Brownie Shaped 'O'
Each individually wrapped item in the basket will serve 1 person
Instructions / Storage
Keep frozen until ready to eat; thaw 1-2 hours (although we have been known to eat them straight out of the freezer!). Do not refrigerate. Tightly covered, they will last 5-6 days at room temperature and up to 3 months in your freezer.
Shipping Details
Items are prepared fresh and shipped directly from the shop
Brownie Points ship Monday-Friday of each week.
Orders cannot be shipped to P.O. Boxes
Orders shipped to Alaska and Hawaii via 2-day will incur an additional $20 charge or $35 for Overnight Shipping. Sorry guys!
Have more questions about Shipping? Read our Shipping FAQ page.