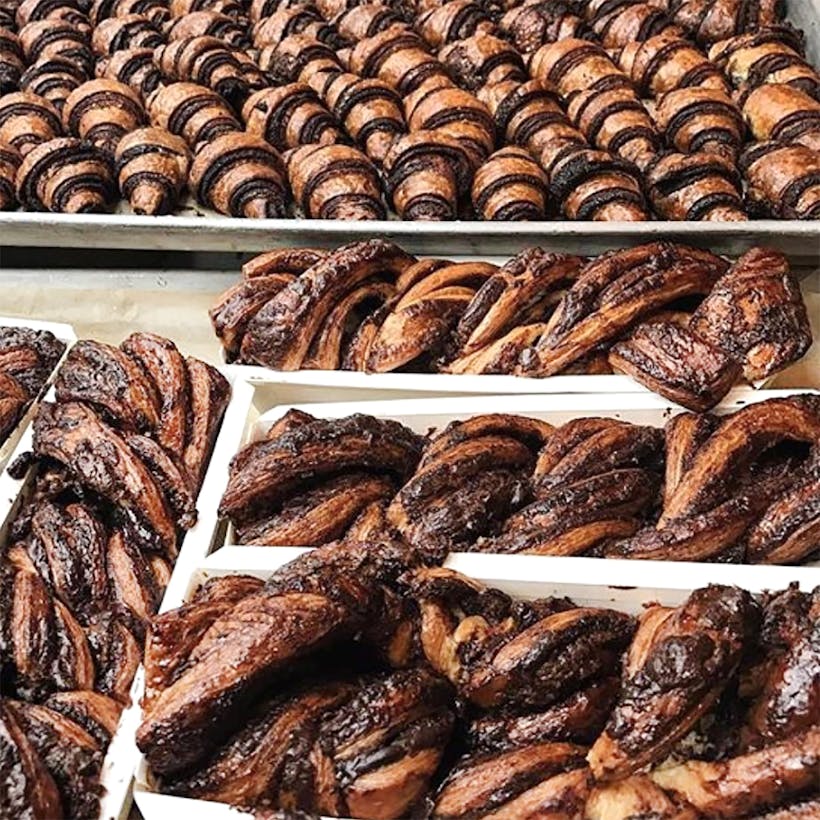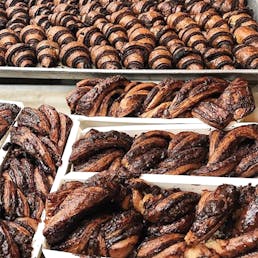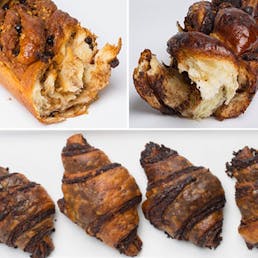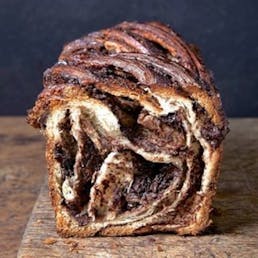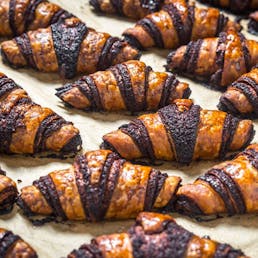 Breads Babka + Rugelach Combo Pack
Indulge in two of Breads Bakery's™ melt-in-your-mouth specialties in this "best-of" combo pack. Enjoy 2 of their famous "best in New York" chocolate Babkas, 1 cinnamon babka and 2 dozen hand-rolled chocolate Rugelach. Whatever you and your lucky friends and family don't finish can be frozen for future enjoyment.
Breads Bakery Babkas™ Chocolate Babkas are made with cultured butter from France, and a mixture of Nutella and Belgian dark-chocolate chips, all of which is spread over laminated dough that's braided into a babka loaf. Immediately after baking, the babkas are bathed in sugar syrup to ensure a crisp, burnished crust and a rich, chocolate-veined interior that remains deliciously moist for days.
Breads Bakery™ Chocolate Rugelach are made with yeasted doughs (that require proofing), and hand-rolled one heavenly cookie-pastry at a time—something few bakeries are willing to do. The result is simply too delicious to describe—you'll just have to taste it for yourself. Warmed in your oven for a few minutes, these other-worldly treats will melt in your mouth and make you wonder what could possibly taste better.
More Details
Each pack includes 2 chocolate babkas and 1 cinnamon babka (each of which serves 4-6 people) and 24 chocolate rugelach
Each babka is approximately 9" long x 3" wide
Ingredients
Contains Nutella (Hazelnut Spread) and walnuts
Instructions / Storage
Storage & Care:
The babka and rugelach are pulled from the bakery's ovens at 4 or 5pm the day they are shipped, so they are incredibly fresh when they arrive at your door the next day. Enjoy your rugelach within 24 hours of arrival, or freeze immediately for up to 60 days. If frozen, thaw at room temperature for 2 to 3 hours – they will still taste delicious and fresh.
Shipping Details
Items are prepared fresh and shipped directly from the shop
Breads ships Monday – Friday of each week
Orders cannot be shipped to P.O. Boxes
Orders shipped to Alaska and Hawaii via 2-day will incur an additional $20 charge or $35 for Overnight Shipping. Sorry guys!
Have more questions about Shipping? Read our Shipping FAQ page.
( 4.9)
Breads Bakery

CUSTOMER REVIEWS
Chocolate babka from Breads Bakery was fabulous! We finished one loaf at Rosh Hashanah dinner. I gave each of my daughters one of the two other loaves to take home. They both told me that the babka was totally gone by the next day.
Ellen W. - Old Bridge, NJ
09/27/19