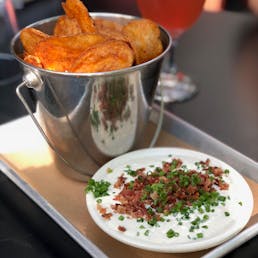 Blue Smoke has been serving New Yorkers some of the nation's best BBQ for decades and now, for the first time ever, they're shipping it nationwide. This Party Pack has everything you need to delight your guests including Blue Smoke's legendary Bacon Blue Cheese Dip complete with house-made chips, their mouth watering Alabama White Sauce chicken wings and 2 full racks of baby back ribs.
More Details
This BBQ Party Pack from Blue Smoke features everything you need to serve 6-8 of your favorite guests. Each pack includes:
30 Alabama White Sauce Chicken Wings (sauce on the side)
2 full racks of Blue Smoke's Baby Back Ribs
1 lb. of Homemade Barbeque Potato Chips
2 pints of Bacon Blue Cheese Chip Dip
8 oz. of Blue Smoke Barbecue Sauce
Choose to add a Blue Smoke Spice Rub Gift Set
Spice Rub Gift Set Add On Includes
2 oz. Red Dirt Rub: Brown sugar and smoked paprika round this rub out to be very versatile. From popcorn to pork, and beets to beef, try it on anything!
2 oz. 5-Pepper Bark Boss: Bark Boss is bold, fierce, and develops deep complex barks. Perfect on beef and all other red meats.
2 oz. Durdy Bird: Say goodbye to boring and get Durdy! Dried herbs and smoked cumin add everything you need to make your poultry a family-favorite.
2 oz. Game Changer: This fall spice rub is great with game like venison, duck, and goose. Clove, juniper, and peppercorns change the game.
Ingredients
Allergy Info:
Wing sauce should be avoided by those with egg, soy, fish or shellfish allergies
Wings and chips should be avoided by anyone with a gluten allergy
The chip dip should be avoided by those with dairy, egg, fish and soy allergies
The ribs and

BBQ

sauce should be avoided by those with fish allergies
Instructions / Storage
WINGS
Preheat your oven to 350 degrees.
Place your pan of chicken wings with the lid securely on into the oven.
Cook for twenty minutes.
Remove from oven and remove the lid off the pan of chicken wings
Place back in the oven for another 20 minutes
Remove hot wings from the oven. Remove the wings from the pan (15 pieces) and into a mixing bowl
Add half of your

AWS

to your chicken wings . Toss until coated.
Repeat as necessary for the rest of your wings.
RIBS
Preheat your oven to 350 degrees.
Remove your foil wrapped ribs from the tray. Keep the ribs wrapped in foil.
Place your ribs upside down on a cookie sheet tray (still wrapped in foil)
Place tray of ribs in the oven and Cook for 20 minutes.
Remove ribs from your oven and unwrap them from the foil (careful they will be hot)
Brush on barbecue sauce or serve on the side.
Download Storage and Prep Instructions
Shipping Details
Items are prepared fresh and shipped directly from the shop
Blue Smoke ships Monday and Wednesday each week
Orders cannot be shipped to P.O. Boxes
Orders shipped to Alaska and Hawaii via 2-day will incur an additional $20 charge or $35 for Overnight Shipping. Sorry guys!
Have more questions about Shipping? Read our Shipping FAQ page.