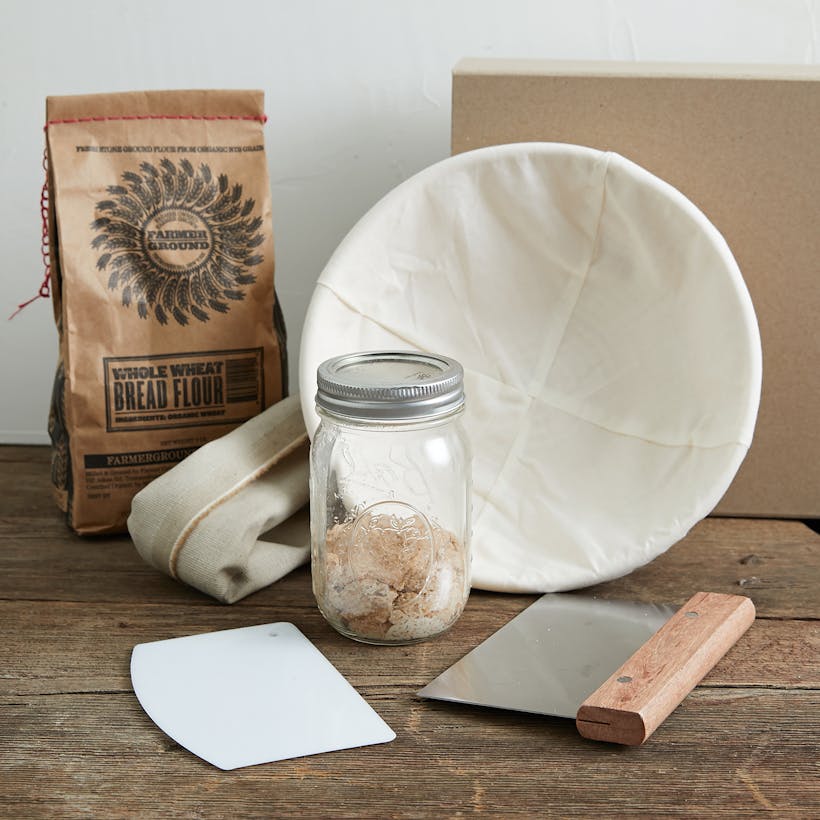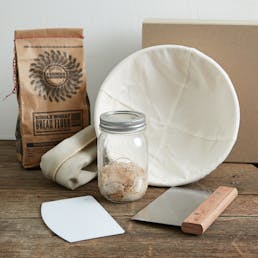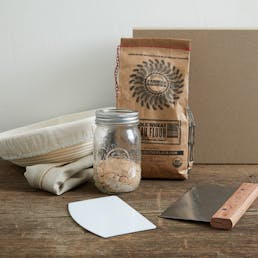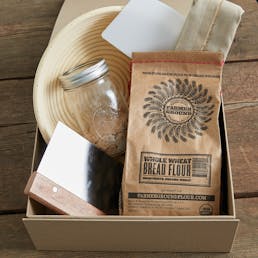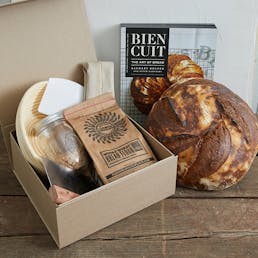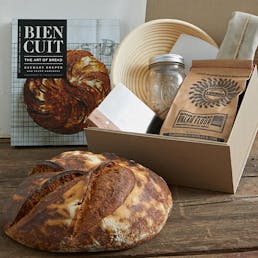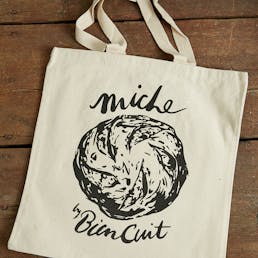 Sourdough Starter Kit + a signed copy of Bien Cuit: the Art of Bread + Miche
A beautiful gift set including Bien Cuit's Sourdough Starter Kit, equipped with all the essential tools for the home artisan bread maker (a dough scraper, a bowl scraper, a proofing basket, a French linen couche, a bag of Farmer Ground organic whole wheat bread flour, and a jar of Chef Zachary Golper's very own Brooklyn-grown sourdough starter), a signed copy of Bien Cuit: The Art of Bread, and Miche, Bien Cuit's signature loaf that combines a blend of rye and wheat flours, a whole grain sourdough starter, up to 68 hours of fermentation and a long, dark bake to create a loaf with maximum caramelization, a deeply complex flavor, and a sturdy crust— the best presentation of slow fermentation.
More Details
Each package includes:
1 Sourdough Starter
1 Bench scraper
1 Bowl scraper
1 French Linen Couche
1 Proofing basket
1 Farmer Ground organic Whole Wheat Bread Flour package
1 signed book
1 Miche
Ingredients
Sourdough starter: organic NYS grapes, whole rye berries, dark rye flour, water, whole wheat flour
Instructions / Storage
Upon arrival, refrigerate the starter or feed immediately.
Can be stored in the refrigerator for up to 7 days until ready to feed or use.
Additional instructions are included with each order.
Shipping Details
Items are prepared fresh and shipped directly from the shop
Bien Cuit ships Monday & Wednesday of each week.
Orders cannot be shipped to P.O. Boxes.
Orders shipped to Alaska and Hawaii via 2-day will incur an additional $20 charge or $35 for Overnight Shipping.
Have more questions about Shipping? Read our Shipping FAQ page.