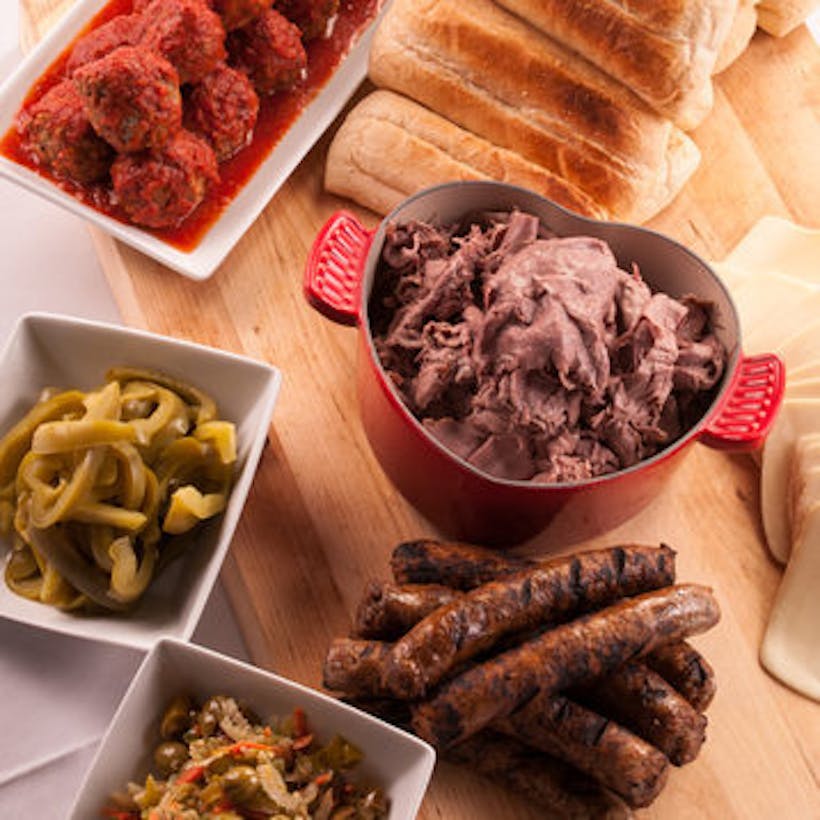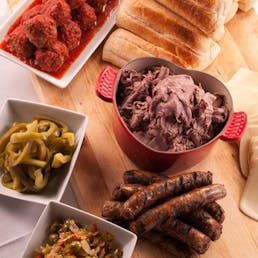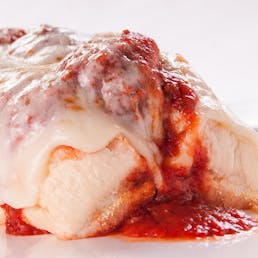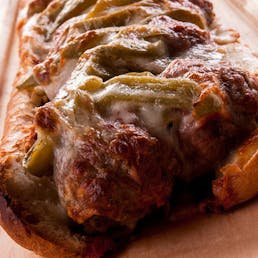 Windy City Sandwich Pack - 12 Pack
Now you can recreate and sink your teeth into 3 different kinds of legendary Chicago sandwiches in one combo pack fit for carnivores. Feast on a buffet of classic Chicago Italian beef with natural gravy, juicy pork sausage links, and Bartolini's famous signature meatball sandwiches smothered in "red gravy". Bartolini's provides generous helpings of all the fixin's so you can get the authentic Chicago experience in the comfort of your own kitchen.
More Details
Bartolini's Windy City Sandwich Pack includes enough meat and accoutrements for 12 hearty sandwiches:
2 lbs Italian Beef with Natural Gravy
2 lbs Meatballs with Red Gravy
2 lbs Sausage Links with Natural Gravy
Sweet Peppers
Hot Giardiniera Peppers
12 Thick Slices of Mozzarella
12 Par-baked French Rolls
Instructions / Storage
Storage & Care:
Meat can be refrigerated and enjoyed within 4 to 5 days of delivery, or can be frozen for up to 2 months in their original packaging. Defrost overnight in your refrigerator before heating.
Preparation:
Bread: If frozen, defrost. Pre Heat Oven to 350 Degrees. Bake bread for 8-10 Minutes until Golden Brown. Remove and let sit at room temp.
Meatballs (Thawed): Remove Plastic Film from tray, transfer meatballs and red gravy into an over-safe casserole or baking dish with cover or foil and bake in 350-degree oven for 20-25 minutes.
Beef (Thawed): Bring Juice to a Boil. Add Beef to Hot Juice, Stir for about 20-30 seconds max as not to over Cook the Beef.
Sausage (Thawed): Bring to a Boil in the Juice and simmer for 10-12 minutes. For added flavor-Cook on Hot BBQ Grill for 8-10 Minutes to achieve a nice char on the sausage.
Making the Sandwiches: Slice Bread ¾ the way through. Add Meatballs, Beef, or Sausage to sandwich and cover with gravy. Add Peppers, Cover with 2 Slices of Mozzarella Cheese and bake face-up on foil-lined baking sheet until melted – about 5-6 Minutes. Enjoy!
Shipping Details
Items are prepared fresh and shipped directly from the shop
Bartolini's ships Tuesday – Friday of each week
Orders cannot be shipped to P.O. Boxes
Orders shipped to Alaska and Hawaii via 2-day will incur an additional $20 charge or $35 for Overnight Shipping. Sorry guys!
Have more questions about Shipping? Read our Shipping FAQ page.
( 4.8)
Bartolini's

CUSTOMER REVIEWS
I have eaten pizza in New York, Chicago, L.A. and many other places. But I have to say this is the best pizza I have ever eaten. When I fix it for friends, unfortunately I never get a second piece. It is truly that good. The other pizzas are also very good, but meatball is the best.....
W.L. - Camden, SC
04/04/19