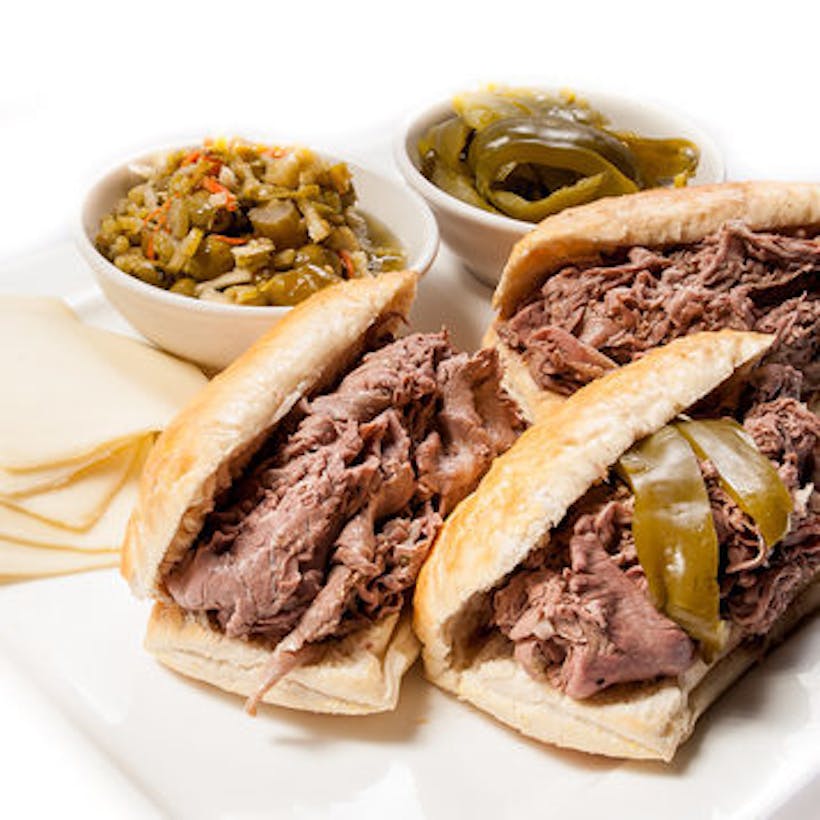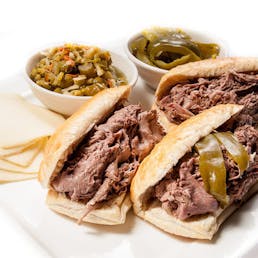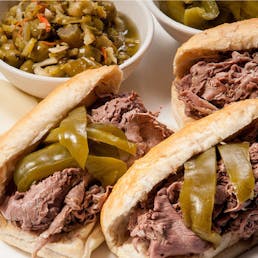 Italian Beef Sandwich Kit - 6 Pack
This complete kit includes everything you need to create six of Chicago's iconic Italian beef sandwiches in your own kitchen! Juicy, thin-sliced Italian beef with natural gravy, thick-sliced mozzarella, sweet and hot peppers and par-baked French rolls.
Bartolini's Chicago-style Italian Beef is slow roasted from choice inside rounds that are perfectly seasoned with a proprietary seasoning blend, the juices are then reduced to create a delicious natural gravy. The Beef is cooked to medium doneness and then allowed to rest before being sliced nice and thin for easy heating in natural gravy.
More Details
Serves 6 people and each pack includes:
2 ½ lbs Thin-sliced Italian Beef with Natural Gravy
Sweet Peppers
Hot Giardiniera Peppers
12 Thick Slices of Mozzarella
6 Par-baked French Rolls
Instructions / Storage
Beef (Thawed): Bring Juice to a Boil. Add Beef to Hot Juice, Stir for about 20-30 seconds max as not to over Cook the Beef.
Bread: If frozen, defrost. Pre Heat Oven to 350 Degrees. Bake bread for 8-10 Minutes until Golden Brown. Remove and let sit at room temp.
To Serve: Slice Bread ¾ the way through. Add beef to sandwich and cover with sauce. Add Peppers, Cover with 2 Slices of Mozzarella Cheese and Bake face-up on foil-lined baking sheet until melted – about 5-6 Minutes. Enjoy!
Shipping Details
Items are prepared fresh and shipped directly from the shop
Bartolini's ships Tuesday – Friday of each week
Orders cannot be shipped to P.O. Boxes
Orders shipped to Alaska and Hawaii via 2-day will incur an additional $20 charge or $35 for Overnight Shipping. Sorry guys!
Have more questions about Shipping? Read our Shipping FAQ page.
( 4.8)
Bartolini's

CUSTOMER REVIEWS
I have eaten pizza in New York, Chicago, L.A. and many other places. But I have to say this is the best pizza I have ever eaten. When I fix it for friends, unfortunately I never get a second piece. It is truly that good. The other pizzas are also very good, but meatball is the best.....
W.L. - Camden, SC
04/04/19