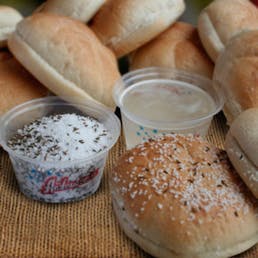 Beef on Weck Sandwich Kit - 8 Pack
If you want to enjoy you fill of legendary beef-on-weck sandwiches, this is the package for you. Known and beloved all over Western New York State, Anderson's award-winning "beef-on-weck" is all-natural (and hormone-free) roast beef that's slow-roasted to perfection, thinly sliced, dipped in au jus, topped with horseradish and layered on a kimmelweck roll.
Each pack serves approximately 8 people.
More Details
This Beef On Weck for 8 package includes everything you'll need to make 8 famous Anderson's beef on weck sandwiches:
2 lbs of All-Natural Roast Beef
8 Kaiser Rolls
Glaze with Caraway/Salt Mix
Au Jus Concentrate
Horseradish
Instructions / Storage
Storage & Care:
Roast beef for "beef-on-weck" can be held frozen for up to 4 weeks, and should be enjoyed within 3 days after defrosting.
Preparation:
Defrost the rolls and glaze at room temperature for 15 to 20 minutes. Meanwhile, preheat your oven to 350 °F. Place the rolls close together on a baking sheet. Coat them with glaze and sprinkle with the caraway/salt mixture. Place coated rolls in the oven and bake them for 2 minutes. Put the au jus concentrate into a pot with one pint of boiling water. Add more hot water to adjust flavor, if desired. Defrost the all-natural roast beef briefly at room temperature until you can separate slices. When defrosted, transfer to a platter. Use tongs to pick up 2 to 3 slices of meat and dip into hot au jus for about 5 seconds. Place the warm beef on kimmelweck rolls and add horseradish and other condiments of choice. Serve with a side of warm au jus for dipping.
Serving Suggestions:
A spectacular sandwich unique to Western New York, beef-on-weck is roast beef on a kimmelweck roll served with au jus and horseradish. Anderson's award-winning (and hormone-free) roast beef is convection roasted to perfection, thinly sliced, and layered on a kimmelweck roll (Kaiser roll sprinkled with pretzel salt and caraway seeds). For an authentic Buffalo experience, spread horseradish on your all-natural roast beef.
Download Storage and Prep Instructions
Shipping Details
Items are prepared fresh and shipped directly from the shop
Anderson's ships Monday-Friday of each week.
Orders cannot be shipped to P.O. Boxes.
Orders shipped to Alaska and Hawaii via 2-day will incur an additional $20 charge or $35 for Overnight Shipping. Sorry guys!
Have more questions about Shipping? Read our Shipping FAQ page.